Bold Leaders
Leadership
Lynn Swann: From On-Field Leadership to a Lifetime of Success
By
Mason Lerner
Posted: 01/26/15
Updated: 11/10/17
After decades of success from the football field to broadcasting and business, former wide receiver Lynn Swann says the most important lessons he learned as an athlete were about leadership.
Swann, who won a national title at the University of Southern California and then played on Pittsburgh teams that won four championships in the 1970's, says he's defined in part by his ability to make the people around him better. It starts, he says, with the trust he and his teammates shared going into each championship game.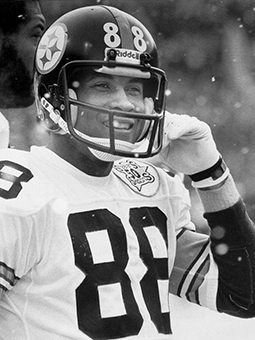 "The preparation, getting ready for the week, getting out on the field, being a part of a team, knowing that I have the support of everybody else on the football team, guys are going to block, make the plays they have to make to give you an opportunity -- those are the things that can give you the confidence that you can go out and you can execute and make things happen," he said.
Being able to depend on all-time greats like Terry Bradshaw, "Mean" Joe Greene and Jack Lambert gave Swann the confidence he needed to help the Steelers rack up championships, he said, but he learned just as much about winning from his less heralded teammates.
"You learn the concept that you're never doing this by yourself. You depend on everybody else to do their job, and when you're called upon to take the point, if you will, when they provide you a platform to make a play, to make something happen, then you step up and you do it because you're part of that team. Everybody on that team has to sacrifice a little bit of themselves to make the team function on the same page with the right timing to get the right results."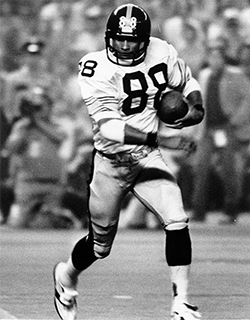 He said one key to success in any endeavor is being able to spot the people who understand what it means to be part of a team.
"That's how you build talent," he said. "You've got to have great bench strength. Everybody can't play every game, so you have to develop that bench strength. (Leaders) have to be able to analyze and see other people's talents, understand how to build the best possible team to move it forward, and that's how you get success."
Playing for the legendary coach Chuck Knoll, Swann said he learned that the same person will be asked to fill different roles in different situations. The same, he said, applies to leadership roles.
"A great leader is someone who listens," he said. "A great leader is someone who can also follow. A great leader is one who takes ownership of the decisions they make. And when asked to do something extraordinary, is willing to step up to the plate and take on that challenge."
Photo: Pittsburgh Steelers | Mason Lerner is a freelance journalist who has written for ESPN The Magazine, the Houston Chronicle, the Associated Press and the Galveston County Daily News.