Your Money
News
The evolution of Lady Liberty on our money
The US Mint will release the first Lady Liberty coin to feature a black woman.
By
Amanda Reaume
Posted: 01/20/17
Updated: 11/10/17
Lady Liberty is one of America's most recognizable symbols. She graced the first coin the United States Mint ever produced and, over the years, has been depicted on our money as a symbol of freedom, peace, commerce, and military might.
The Coinage Act of 1792 essentially created the Mint, and stated that one side of all coins had to feature an image emblematic of liberty. For many years, this was done with Lady Liberty. Over the years, her look has evolved.
In honor of the Mint's 225th anniversary, a $100 coin will feature a black woman as Lady Liberty. This will mark the first time Lady Liberty has been depicted as a woman of color on a coin.
The new coin, which will be released in April, launches a series of commemorative coins slated to be released every two years. In each iteration Lady Liberty will be depicted as Native American, Latino, or Asian-American, to reflect the cultural diversity of the US.
The new coin, which was designed by Justin Kunz and engraved by Phebe Hemphill, depicts a youthful Lady Liberty sporting a crown of stars beneath the word, "Liberty".
In total, 100,000 24 karat gold coins will be struck, and will sell for around $1,500 each. There will also be silver versions, which will sell for between $40 and $50.
Here's an outline of how Lady Liberty has evolved over the years.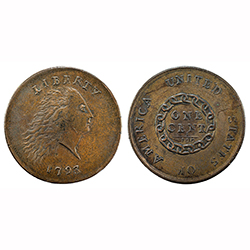 The Chain Cent
When the Mint was created in 1792, it immediately began working on a currency for the young nation. Prior to that, there had been a few US coins produced, but by private mints.
The very first coin the Mint struck was the 1793 Chain Cent. Lady Liberty was chosen because many believed that she perfectly represented America's promise of freedom. Designed by Henry Voigt, the Chief Coiner at the Mint, Lady Liberty's long flowing hair was supposed to symbolize freedom. But many disliked the coin because they thought Liberty was unattractive and her hair made her look disheveled.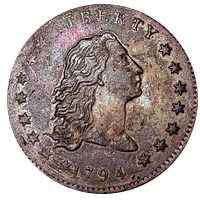 The Flowing Hair Dollar
The Flowing Hair Dollar was first minted in 1794 and 1795, and was designed by engraver Robert Scot. This was the first dollar to feature Lady Liberty on it is considered by coin collectors to be iconic and rare.
In 2013, a 1794 Flowing Hair Dollar was sold for over $10 million -- the highest price ever paid for a coin. Some versions of this coin depict stars surrounding Lady Liberty. These stars represent the number of states that were part of the Union at the time the coin was created.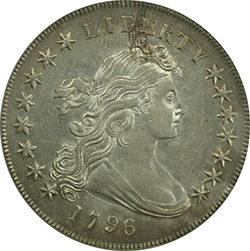 The Draped Bust Dollar
Between 1795 and 1807 a new version of Lady Liberty went into circulation. The Draped Bust Dollar was designed by artist Gilbert Stuart and was rumored to be modeled after Ann Willing Bingham, a prominent socialite who was known for her good looks.
Bingham was a friend of Thomas Jefferson, Abigail Adams, and Alexander Hamilton, and regularly hosted members of the Federalist Party at her home. Stuart is considered one of the nation's best known portraitists. His most famous work is his unfinished portrait of George Washington which appears on the $1 bill.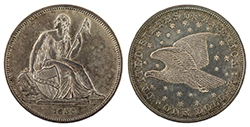 The Gobrecht Dollar
The Gobrecht Dollar features a key evolution in the Lady Liberty because it is the first depiction of her sitting. This change was suggested by Robert M. Patterson, the director of the Mint at the time. The original sketch of the design was created by the artist Thomas Sully, but the designer is credited as being Christian Gobrecht, who was an engraver at the Mint. In production between 1836 and 1839, the coin depicts Lady Liberty holding a staff and a shield which is inscribed with the word Liberty.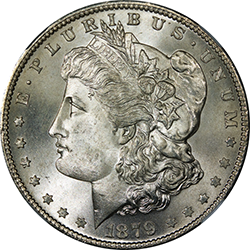 The Morgan Dollar
George Morgan was only 30 years old when he created the design for the Morgan Dollar in 1877. His design was notable because, for the first time, he depicted Lady Liberty as an American woman rather than a Greek figure. The model for his Liberty was Anna Willess Williams. Williams had what Morgan believed to be a flawless profile and a "crowning glory" of blonde hair. Though she was promised anonymity, in 1879 a reporter named her as the model and she became known as the "Silver Dollar Girl." She received numerous letters and admirers and even an offer to appear on stage.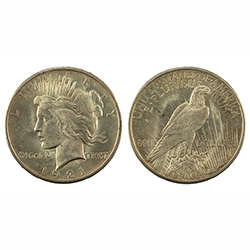 The Peace Dollar
The Peace Dollar was produced from 1921 to 1928 and again from 1934 to 1935. It was designed by Anthony de Francisci after he won an open design competition to create a coin to commemorate the end of World War I. De Francisci was a sculptor and modeled Liberty on his wife Teresa de Francisci. The original design was marked by controversy. When originally announced, the coin featured a broken sword being carried by an eagle - which many believed was a symbol of defeat. The sword was quickly removed and replaced with an olive branch.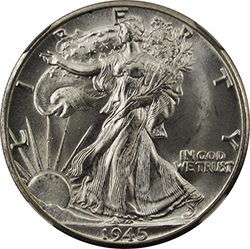 Walking Liberty Half Dollar
The Walking Liberty Half Dollar, which was produced between 1916 and 1947, is one of the most beautiful renderings of Lady Liberty. The design was created by sculptor Adolph A. Weinman and is extremely symbolic. Liberty is walking towards the sun and the dawn of a new day. She is carrying laurel and oak branches to symbolize military and civil victory and her outstretched arm represents her attempts to impart the spirit of liberty to others. It is believed that Elsie Stevens, one of Weinman's tenants and the wife of poet Wallace Stevens, was the model for Liberty.
Amanda Reaume is a Chase News contributor. Her writing has appeared in Time, Forbes, USA Today, and Fox Business. She is the author of a personal finance book for millennials, "Money Is Everything."