Your Life
Home
Get the Style of the Sundance Film Festival . . . at Home!
By
Jeryl Brunner and Brent Butterworth
Posted: 01/13/16
Updated: 11/10/17
Chase Sapphire Preferred® is a presenting sponsor of the 2017 Sundance Film Festival, an independent film exhibition in the United States. Launched in 1981, the Festival showcases new movies, music events, panel discussions and more each January in Park City, Utah.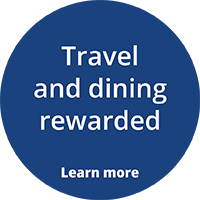 Every January during the 10-day Sundance Film Festival, Park City is buzzing. The charm of this mountain town mixed with top-notch restaurants, galleries and shops makes the place a true travel destination.
But what if you can't get to the Sundance Film Festival? You can still create the film festival vibe in your own home. One way to bring it all together: Have a Sundance-Film-Festival-themed dinner party—even a mini film festival. All you need is the right backdrop, food and entertainment. Here's how to do it.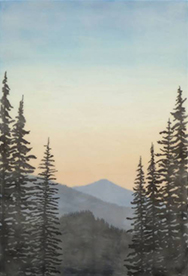 Décor
When you can't make it to the mountain, you can bring the mountain home to you—or at least a portrait of a mountain. Buy a painting from a Park City artist like Bridgette Meinhold, recommends Maren Mullin, owner of Gallery MAR in Park City. "We are surrounded by the natural beauty of pine and Aspen trees and mountains," says Mullin. Meinhold, who lives in a snowmobile community and finds inspiration from the landscape, "captures our area beautifully in encaustic wax paintings," says Mullin. "During Sundance, many people buy her art because they want to take home that Park City feeling." [Meinhold's work—currently ranging between $1,000 and $4,000—can be purchased via Gallery MAR.]

"Park City décor takes advantage of the beauty of nature and doesn't overdo it," advises Ann Whittaker, a designer for Utah.com. Tie pine branches into napkin place settings, she suggests, and attach a cinnamon stick. Place real or fake pine cones under glass bell jars. Or add pines to large glass vases.
Park City residents love natural fibers and textiles, notes Whittaker. They often have a few Pendleton wool throws hanging around on sofas and reading areas. "A Native American theme gives a nod to the state's earliest residents and its western frontier roots," she explains.
Other ways to give your gathering that Park City feel: "Use unrolled celluloid to trim the table as décor," suggests Mullin. "Stack some film reels and place your dessert plates on the reels." Whittaker adds, "Get Sundance Film Festival merchandise, posters and collectibles from the Sundance catalog and look like an indie insider." And easiest of all: Buy glittery white candles.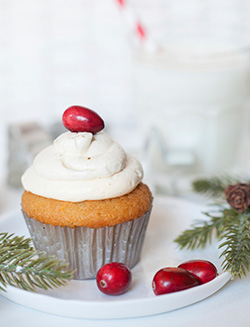 You can even make the food at your dinner party part of the decor. Whittaker suggests topping a white frosted cake with cranberries and setting it on a silver cake platter. Then spread pine sprigs (found at any craft store) down the center of the table. Do this and, "Park City's personas are represented," says Whittaker. "White frosting for snow, pine sprigs for the mountain, and silver as a nod to the city's mining history." And speaking of food . . . .
Cuisine
"When you go to a Park City restaurant like Riverhorse on Main and eat its tender trio of wild buffalo, venison chop and elk topped with caramelized onion, a port wine reduction and huckleberry compote, it warms you to your core," says Shirin Spangenberg of Park City Food Tours. "That is quintessential Park City cuisine."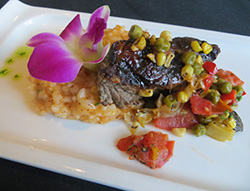 The good news: You can actually order some of the region's best gastronomy and bring Park City to your table. Morgan Valley Lamb provides meat to restaurants on Main Street. Gold Creek Farms often sells their cheeses. High West Whiskey is brewed in small batches with top ingredients in Park City and sold nationwide. And for sweets, you can use a Park City favorite chocolate like V Chocolates for party favors.

Rhonda Sideris, president and founder of Park City Lodging, suggests ordering some of Deer Valley Resort's most cherished foods, like its restaurants' famous turkey chili. "It's even better the second day," advises Sideris. Their tangy cilantro lime glaze can be smothered on ribs, fish and chicken. And for dessert, you can order the mix for their beloved chocolate chip cookies.
Your Film Festival
What would a tribute to the Sundance Film Festival be without your own mini film festival? Putting one together isn't difficult or necessarily even expensive. The key steps are adjusting the TV and your room lighting for the best picture, and hooking up a better sound system.
"A television 55 inches or larger should do fine if you're having five to 10 people over to watch movies," says Chris Heinonen, AV staff writer for thewirecutter.com. The important thing is to adjust the TV for an accurate picture. "Most TVs now have a picture mode called movie or cinema or expert, and that's typically going to set the colors so they look like what the director intended," Heinonen says. "Also, make sure there are no room lights reflecting off the screen. I use lights that point upward."
Most flat screen televisions have tiny built-in speakers. Heinonen, though, recommends connecting a separate sound system to your TV. This could be a soundbar (a separate speaker made for use with TVs) or a regular stereo. "Most TVs have an audio output that you can connect to a stereo system," says Heinonen. "Look at the back of the TV and the stereo to see what kinds of audio jacks they have, then check on some websites or RadioShack to find cables that match."
Finally—after you have your décor, menu and entertainment system set—there's one last thing you can do to give your gathering that quintessential Sundance Film Festival feeling: Enact a dress code. As in, ask all your guests to wear black. "In Park City we call the folks who come for Sundance the PIBs," jokes Mullin. "People in Black."
Read more about all that the Festival has to offer on chase.com/SapphireOnLocation.
Jeryl Brunner is a journalist and author of "My City, My New York," and "My City, My Los Angeles." A freelance technology writer, Brent Butterworth most recently served as an editor at home theater gear publication, Sound & Vision.