The reliable, plug-and-play payment terminal
Always on
A wired debit and credit card machine means never having to charge a battery.
Dependably secure
With a wired connection, there's less of a chance of interruption or compromise.
Tailor for your unique business needs
Download powerful, time-saving apps that help you manage your business more efficiently.
Never miss a sale
Customers can pay via: tap, chip & PIN, swipe or digital wallets such as Google PayTM and Apple Pay®.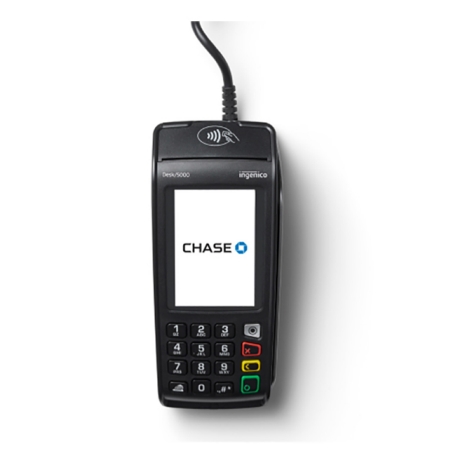 Fair and transparent pricing
Hardware
$28.95/month rental fee
Competitive card processing rates
Tap, chip & PIN or swipe (per transaction)
Visa®, Mastercard® or American Express®: 2.60%
Interac: 8¢
Custom pricing available

Questions?
Call us at 1-866-490-5347 or connect with our Sales team.
A global payments leader on your side
Chase processes more than $1.88 trillion in annual debit and credit card volume worldwide. We focus on payments so you can focus on running your business.
Anytime, anywhere payments
Be prepared for every sale: take payments on your countertop, at the table or on the go. Accept debit and credit cards including digital wallets.
Why wait to get paid? Get funding as soon as the next business day. Plus, enjoy competitive and customized pricing based on your business.
Get fortress-level security with our secure payment solutions. And as technology advances, our industry-leading systems help keep your payments and reputation safe.
What customers are saying about us
"We know that we can count on Chase to deliver terminals wherever we need them, whenever we need them. Chase never lets us down."
- David Bluestein, President of Bluestein Export Import Inc.
Consider these additional payment solutions:
Accept payments from your smartphone
Accept debit and credit cards right from your smartphone using the Chase Mobile Checkout-PLUS app and contactless mobile card reader.
Connect with us
We'll help you set up the right payment solution for your business. Call us at 1-866-490-5347.