Price Protection*
This benefit will be discontinued on 8/26/2018.
The following information is a summary only. Please see your Guide to Benefits for complete details.
Benefit Overview
Provides reimbursement for the difference in price on eligible items purchased in the U.S., when the identical item is advertised for less in print or online within 90 days of the original purchase price
The item must be purchased with an eligible Chase card or rewards earned on an eligible Chase card
Coverage is secondary to and in excess of store policies offering low-price guarantees or any other form of refund for price differences
Who's Covered
Coverage Amount
Up to $500 per item, maximum $2,500 per year
Up to $50 per item and $150 per year, per account for advertisements of cash only, close-out, liquidation, and going-out-of-business sales
Advertisements Not Covered
Advertisements for flea markets, fire sales, limited quantity promotions, seasonal sales or auctions
Advertisements of sales of seasonal or discontinued items including, but not limited to, holiday decorations, clothes, or costumes
What's Not Covered
This is not an exhaustive list. Examples include:
Boats, automobiles, and any other motorized vehicles and their motors, equipment, and accessories
Cell phone service agreements and cell phone contracts
Items previously owned, sold "as is," and refurbished items
Items purchased for resale, professional, or commercial use
Items purchased outside of the United States
Jewelry, antiques, collectible items, rare or one-of-a-kind items, special order items, custom items, and tailored items
Price differences involving manufacturer and/or merchant rebates, shipping and handling fees, and sales tax, if any
Important Claim Information and Timeframes
You, the Cardholder, must call the Benefit Administrator within 21 days of the date of the advertisement
The Benefit Administrator will send you a claim form when you report your loss, you must submit a completed claim form and supporting documentation within 45 days of requesting the claim form
The printed or non-auction internet advertisement must include a description of an item identical to the one purchased along with the sale price, the store or dealer's name and the date(s) the sale is in effect
Sale date in the advertisement must be within 90 days after the original purchase date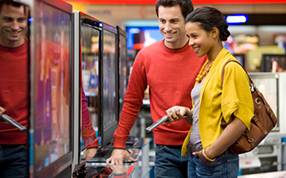 Need to know more?
Download your complete
Guide to Benefits.
Or call 1-877-445-4153 for information or to file a claim.
You can also file a claim online at eclaimsline.com