Roadside Dispatch*
The following information is a summary only. Please see your Guide to Benefits for complete details.
Benefit Overview
Provides access to a variety of roadside assistance services while traveling in the U.S. and Canada
Available 24 hours a day, 365 days a year by calling 1-800-847-2869
Additional fees for services (if applicable) will be charged to Cardholder's Chase card
What's Covered
For a flat fee per service call, the program provides:
Towing – up to 5 miles
Tire Changing – must have good, inflated spare
Jump Starting – battery boost
Lockout Service (no key replacement)
Fuel Delivery – up to 5 gallons (cost of fuel not included)
Winching (within 100 feet of paved or county maintained road only)
Who's Covered
Vehicles Covered
Rates apply to vehicles up to one ton gross vehicle weight only
What's Not Covered
This is not an exhaustive list. Examples include:
Emergency road service is not available in areas not regularly traveled, in "off-road" areas not accessible by ordinary towing vehicles, or for over one-ton capacity trailers, campers, or vehicles-in-tow
Note: Service providers supplying emergency roadside assistance and towing are independent contractors and are solely liable for their services.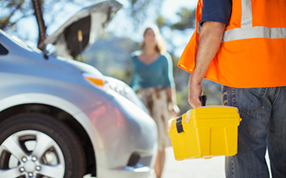 Need to know more?
Click here to download your Guide to Benefits.
Or call 1-800-847-2869 for information or
assistance.