Trip Delay Reimbursement*
The following information is a summary only. Please see your Guide to Benefits for complete details.
Benefit Overview

Provides reimbursement for expenses such as meals and lodging if your common carrier (airline, bus, cruise ship, train) travel is delayed more than 12 hours or requires an overnight stay

Coverage is in excess of any expenses paid by any other party, including applicable insurance

Trip must be away from the cardholder's city of residence and be less than 365 days in length

Provides coverage when the common carrier fare has been purchased with an eligible Chase card or with rewards earned on an eligible Chase card
Who's Covered

Cardholder

Cardholder's spouse or domestic partner

Dependent children under age 22

Coverage Amount

Up to $500 for each purchased ticket

Coverage is limited to one covered hazard per trip
What's Covered

Reasonable additional expenses incurred for meals, lodging, toiletries, medication, and other personal use items due to the covered delay
What's Not Covered

Any covered hazard delay that was made public or known to you prior to the departure for the covered trip

Prepaid expenses are not covered
Important Claim Information and Timeframes

You, the Cardholder, must notify the Benefit Administrator within 60 days following the date of the delay

The Benefit Administrator will send you a claim form when you report your loss. You must submit a completed claim form and supporting documentation within 100 days of the date of the delay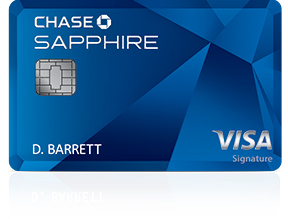 Need to know more?
Download your complete
Guide to Benefits.
Or call 1-888-320-9961 for information or to file a claim.
You can also file a claim online at www.eclaimsline.com