The power of difference
Learn how one impact entrepreneur unites disparate people, making them stronger individually and unstoppable together.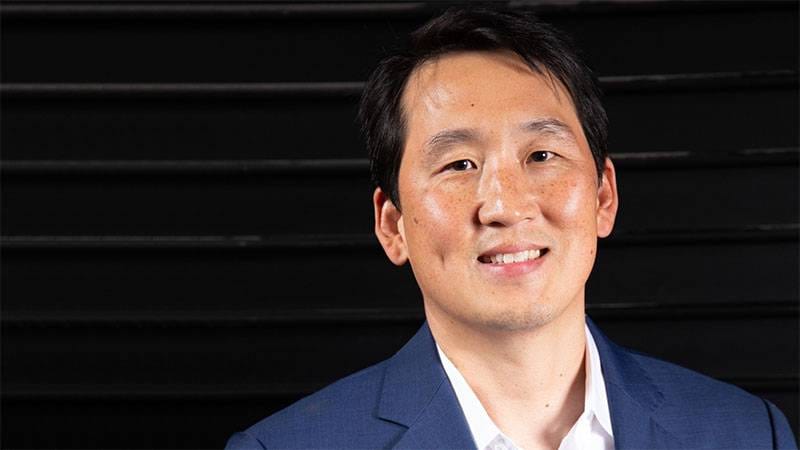 "My name is James. I don't have any retail operating experience. I'm not Black. I'm not a woman. And I don't have a lot of Black friends." This was the gist of how James Rhee introduced himself on his first day as CEO of Ashley Stewart, a near-bankrupt retail clothing company catering to plus-size Black women.
Rhee was jumping into a completely new experience and needed a lot of help. And so — as he had done many times before — the successful investor, lawyer, impact entrepreneur and one-time high school teacher again became the student.
It started in the summer of 2013 when Rhee went to a board meeting at Ashley Stewart, one of the portfolio companies of his previous firm. As usual, the room was teeming with talk of financial assets and portfolios but no mention of the people involved in Ashley Stewart.
"These are families, and these are high school and college educations, and these are food on the table. These are people, not portfolios. Living and breathing."
– James Rhee, Advisory Council Member, JPMorgan Chase Advancing Black Pathways
Rhee remembers thinking: "These are families, and these are high school and college educations, and these are food on the table. These are people, not portfolios. Living and breathing."
He also couldn't stop dwelling on the fact that the "asset" this time was a predominantly "othered" demographic of size-12-and-up Black women with moderate incomes. Rhee wanted to do something. He thought of his own mother and his immigrant parents' humble beginnings in America, trying to fit in and make it with only a couple hundred dollars. He wondered if he could help these women be seen, possibly for the first time in their lives.
Without quite knowing what he was getting himself into, Rhee agreed to step in as CEO of Ashley Stewart for six months. He left Boston and put his private equity career and identity on hold to enter a situation where he had little experience. Rhee was about to learn more than he could ever have imagined.
Showing up
As CEO, Rhee didn't sit behind a desk. He immersed himself in the culture, standing shoulder to shoulder with frontline workers and customers. And he listened. A lot. Finally, a lightbulb went on and Rhee called the group together to share what he had realized.
"If you think this is a clothing business for plus-size Black women, that's not it," Rhee told them. "Those are the products we happen to have on our shelves. That's not what our customers come to us for. What we offer is trust and safety and respect. That's Ashley Stewart. I see it all over the place. Can you not?"
The lightbulb went on for many, but not all, in that room. They now saw something they hadn't before. Then something amazing happened: The brand skyrocketed, creating impact far beyond its impressive financial success.
What was planned as a six-month leadership stint became one year, then seven. "It felt like it was us against the world, and it was working," Rhee remembers with a smile. "Me, part of this amazing group of Black women. Whenever I think about it, I am humbled and awed. And I'm reminded how a bunch of people, who on the surface seem so different, created an impact far beyond an impressive income statement."
Measuring success
Rhee's approach to success has always been to justify things on both a quantitative and a qualitative basis. "When I reflect on everything I've done in my life — as a parent, as a CEO, as an entrepreneur, as a teacher — it could all be boiled down to two things: Kindness and Math™," says Rhee. This term, trademarked by Rhee, embodies the two core principles he used to breathe new life into Ashley Stewart and the same ones he uses to validate every decision. Does it make sense from a human perspective? Does it make sense from a financial perspective? If the answer to both is yes, Rhee feels confident in his choice.
Creating a different kind of investment vehicle
While Rhee has always been proud of the financial returns he delivers to investors and companies like Ashely Stewart, he takes even greater satisfaction in the fact that his purposeful investments in intangible assets such as knowledge and confidence have created broader societal returns. Those same objectives are what led Rhee to start his own investment platform, FirePine Group, back in 2009.
From the beginning, he made sure everyone understood his mission. "I hand-selected my investor base," he says. "In taking their capital, I was very clear with them that 'I'm here to make money, but this is how we're going to do it.'"
FirePine Group has allowed Rhee to invest not only capital but also his time, giving him the freedom to teach people and devote energy to things that are important to him, including the seven years he spent at Ashley Stewart.
"I've never placed profits over people and that philosophy has driven tremendous returns, broadly defined," Rhee says.
Recognizing what matters
Rhee is still investing in businesses and, more importantly, in people. He is writing a book, and through his newest venture, Red Helicopter, he is teaching again. Centered around human-centered and transformative leadership, Rhee is basing his content and curriculum on many of the skills he's learned over the years that combine business, mathematics, ethics, technology, organizational psychology and branding. His current teaching tour includes classes at Duke University School of Law, MIT Sloan School of Management and many historically Black colleges and universities, where he hopes to teach the children of the women who became his family at Ashley Stewart. In the private sector, he is leveraging his seat on the boards of two organizations, CEO Action for Racial Equity and Conscious Capitalism, to provide guidance to CEOs and their organizations across multiple industries and countries.
Rhee has also been named the John H. Johnson Endowed Chair of Entrepreneurship at Howard University, effective July 1, 2021, where he will work to strengthen a culture of entrepreneurial activity across Howard University among students, faculty, staff, alumni and community business owners. During this three-year appointment, he will teach a course titled, "Impact Investing, ESG and Life," which will be supplemented with a speaker series featuring other business leaders. Mr. Rhee will also serve as a senior adviser to Howard's new Center for Women, Gender and Global Leadership.
"I think, fundamentally, I am a teacher," says Rhee. "Born to immigrant parents with little means to provide luxuries, I never learned to relish material things. Instead it was relationships, love and truth that sustained me. And a very good education. I would like for everyone to have the opportunity to have those things."
Rhee is committed to helping people understand that by possessing those four intangible things, they can realize very tangible results — in their personal lives and in their businesses. He's instilled these values in the women of Ashley Stewart, in the thousands of students he has taught and in the millions of partners, peers, clients and customers he has interacted with throughout his career in law, finance and entrepreneurship.
In many ways, Rhee's life has come full circle.
"I think that I'm a better teacher today because I'm much clearer about what my values are," Rhee says. "I often talk about the importance of having the clarity that I did when I was 10. The more you can regress to being a 10-year old, where you see things for what they really are, you become a much more effective leader, teacher and CEO."
James Rhee and JPMC employees: Ahtis Davis, Elizabeth Liu, Tosh Ernest, Lorraine Chow Hansen, Sharnell Delmohammed, Heidi Bostelman, Nancy Bazelais, Justin Grant and Sara Gebremedhin.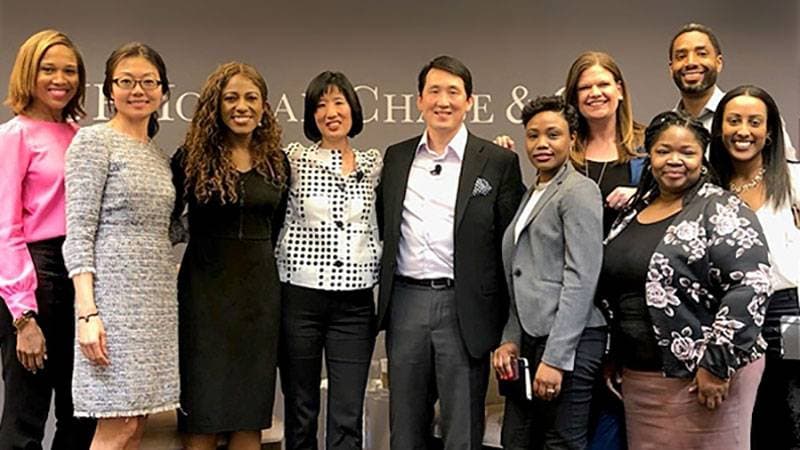 Shaping the future
If his students are any indication of our country's future, Rhee is optimistic. He's also excited about the role that businesses are playing in recognizing and righting the wrongs that society has created over the past several decades. As a member of the advisory board for Advancing Black Pathways, a JPMorgan Chase strategy that aims to promote economic empowerment in the Black community, Rhee has seen firsthand the types of impact that businesses can have when they do it right.
"With Advancing Black Pathways, there's an intentionality and an accountability. We are not just signing checks; we're changing lives," says Rhee. "The results speak for themselves."
Some of these results show up on P&L sheets and annual reports, while others can be seen in people's actions, their attitudes toward each other, their self-confidence and their outlook on life. As he looks around, Rhee sees it all. And as he has done so many times before, he helps others see it as well.
The testimonials on this page or provided via linked videos are the sole opinions, findings or experiences of our customer and not those of JPMorgan Chase Bank, N.A. or any of its affiliates. These opinions, findings, or experiences may not be representative of what all customers may achieve. JPMorgan Chase Bank, N.A. or any of its affiliates are not liable for decisions made or actions taken in reliance on any of the testimonial information provided.
JPMorgan Chase Bank, N.A. Member FDIC. Equal Opportunity Lender, ©2023 JPMorgan Chase & Co.