Reopening advice from a New Orleans restaurateur
While many restaurants closed, Greg Tillery's We Dat's Chicken & Shrimp survived COVID-19. Now, business is booming.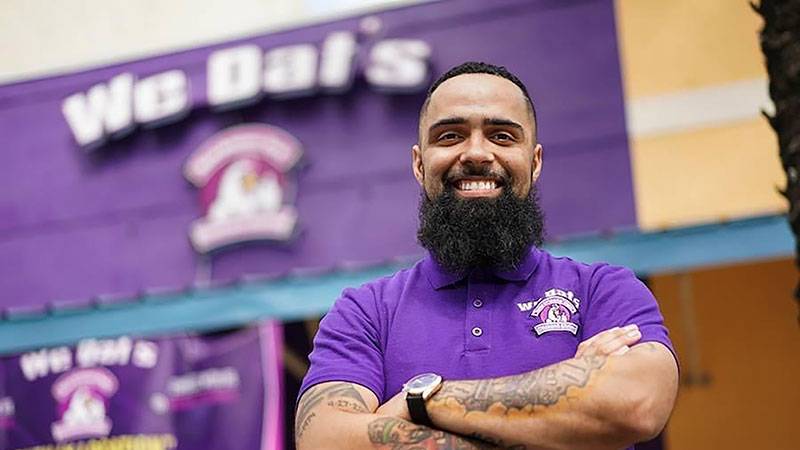 When New Orleans native Greg Tillery invested his life savings in a bald-tired, noncompliant food truck in 2015, he was certain his business, aptly named We Dat's Chicken & Shrimp, a play on his passion for people and famous New Orlean's chant "Who dat," would succeed — even though he didn't know how to cook or drive a manual transmission vehicle.
"That's just the way I'm wired," Tillery chuckles. "I tell people all the time that it's not what happens that matters. It's how you deal with it."
Every propane shortage, breakdown and grease fire that followed only burnished Tillery's resilience.
After successfully opening his other brick and mortar locations, at the beginning of 2020, he was focused on opening his first drive-thru restaurant in New Orleans East and a Pecanland Mall food court location more than four hours away in Monroe, Louisiana. Then COVID-19 hit.
"Small businesses get intimidated by banks. I say, just do things the right way and everything will fall in line. Now is the perfect time to do what you want to do, especially if that's opening up a restaurant."
– Greg Tillery, Founder and CEO, We Dat's Chicken & Shrimp
Chase Performance Business Checking
Shutdown reaction: Feed first responders and remain calm
Soon after New Orleans Mayor LaToya Cantrell declared a state of emergency in March 2020, Tillery made a generous decision regarding inventory. "I cooked all of my chicken and went around to the city and just donated it to the fire department, the police station, the guys on their routes collecting trash," Tillery says. "I'd rather cook it and donate it to people than let it sit in the refrigerators and go to waste."
Then he closed his stores. "They were telling us to stay home," says Tillery. "I didn't want to expose customers or my people to COVID-19, so I just shut it down — every location plus the work on the drive-thru."
The very first call Tillery received after closing all locations was from his Chase Business Banking Relationship Manager, Rianne Banks Egana. "The call came immediately when I shut my stores down," says Tillery. "She's like, 'Are you OK? I want you to know I've got your back. No matter what happens, we're in this together." Tillery continues, "Having that support from Chase, I thought, 'All right, cool. We're going to make it through this.'"
Seasonings help keep We Dat's afloat
In 2017, Tillery began selling We Dat's Original and Garlic Parmesan seasonings and on the shelves at New Orleans grocery chain Rouses Markets. Though successful, Tillery wasn't focused on expanding the seasoning line until the pandemic hit. Even the typically optimistic Tillery admits worrying about what would happen. "I wasn't sleeping, and my landlords were asking for their money," he says. "2020 forced me to be uncomfortable."
Tillery pivoted his full focus to seasonings and began introducing new products, including Wuzzam Buffalo Wing Sauce, inspired by one of the most popular items on the We Dat's menu. "People tagged me on Instagram all the time," Tillery laughs. "They'd say, 'The stores were closed, but I made my own Wuzzam Wings.'" Though his stores are now open, Tillery is committed to growing the product line. "We're coming out with a Lemon Pepper, a Jambalaya, a Dirty Rice," he enthuses. "I love these products."
Reopening: It's a process
New Orleans signaled that restaurants could start to reopen in late 2020. Tillery quickly sourced hand sanitizer and sneeze guards, but staffing was his chief concern. He found a human resources company and issued an online listing for store managers. "I started from the top down," he explains. "I thought if I could get a store manager at each location, that store manager could help with hiring staff. Then I could get in there with my partner and train them." Though his recruitment strategy has been effective, the turnover rate remains high. Tillery's response? Raise salaries. "I want to make sure we're taking care of our people," Tillery explains. "If we can still be profitable, I'll raise the salaries. That's the bottom line."
Regarding his stance on vaccination, Tillery says, "I didn't put pressure on my employees, but I did tell them I got it done myself and would support them getting vaccinated as well." Tillery also provided all staff with masks. "They will wear them moving forward," he says.
After deep cleaning the restaurants and freezers and restocking inventory, Tillery reopened We Dat's in phases. He started with a limited menu and shorter hours in just two locations. He then followed with two more limited reopenings in November.
Tillery's advice for reopening — and staying open
A recent Facebook post from Tillery reads: "I could write a book about all the many lessons I learned." Tillery elaborates, "First of all, no idea is a bad idea, OK? No idea is a crazy idea. Whatever it is that you want to do, do it." Another lesson: "Get — and keep — your finances in order, especially if you're a restauranteur. Make sure you are straight from a paperwork standpoint and that everything goes through the register."
As for delivery services, Tillery learned that the profit trade-off was worth it. "I reached out to a lot of friends who own restaurants and told them to get on food delivery platforms," he recalls. "They were skeptical of the percentage delivery platforms take, but I told them, 'Look, this is going to keep your business relevant. You'll still make money.'"
Tillery's book of lessons would also include an extensive chapter on safety. "Everybody's antennas are up now," he says. "You've got to make sure that when people walk in, they feel safe. Make sure your bathrooms are clean, that your people in your kitchens are wearing masks and constantly changing their gloves. Make sure your people are constantly coming through, wiping down tables and doing what they need to do."
The ultimate lesson? Tillery recommends focusing on the quality and taste of the food you serve. "You've gotta start with that one plate," Tillery says. "Make sure it's good. That one person will go tell five to 10 people how good that plate is."
As business takes off, Tillery stands by Chase
As of June 2021, Tillery reports that We Dat's Chicken & Shrimp locations are at 100% capacity, including a food truck at the Horseshoe Casino in Bossier City, Louisiana[JP2] , and two new places in Texas. "If I had to talk to someone who was skeptical about opening right now, I'd tell them, 'Money is flowing in the economy,'" says Tillery. "People have been cooped up in the house for a year. They want to go out and eat."
When asked about the role of Chase for Business in his reopening process, Tillery reiterates his appreciation for his relationship manager and what he describes as "a family feel" when working with Chase. "It wasn't just a one-time thing with Rianne, like she opened my account and that was that," he explains. "She checks on me on the regular."
Egana helped Tillery set up a Chase Performance Business Checking® account, a line of credit and an Ink Business Unlimited® credit card that allows him to earn reward points on business purchases. "I need to check on my points," he says. "I've been using my card like crazy."
"It's important, the bank you choose," Tillery adds. "I emphatically advise entrepreneurs who are choosing a bank to go somewhere like Chase, where you don't just feel like a tax ID number. Go where they actually care about you and your business."
If reopening or growing your business is on the menu, open an account today or chat with a business banker toll-free at 1-800-935-9935.
The testimonials on this page or provided via linked videos are the sole opinions, findings or experiences of our customer and not those of JPMorgan Chase Bank, N.A. or any of its affiliates. These opinions, findings, or experiences may not be representative of what all customers may achieve. JPMorgan Chase Bank, N.A. or any of its affiliates are not liable for decisions made or actions taken in reliance on any of the testimonial information provided.
For informational/educational purposes only: The views expressed in this article may differ from those of other employees and departments of JPMorgan Chase & Co. Views and strategies described may not be appropriate for everyone and are not intended as specific advice/recommendation for any individual. Information has been obtained from sources believed to be reliable, but JPMorgan Chase & Co. or its affiliates and/or subsidiaries do not warrant its completeness or accuracy. You should carefully consider your needs and objectives before making any decisions and consult the appropriate professional(s). Outlooks and past performance are not guarantees of future results.
You should carefully consider your needs and objectives before making any decisions, and consult the appropriate professional(s).
JPMorgan Chase Bank, N.A. Member FDIC. Equal Opportunity Lender, ©2022 JPMorgan Chase & Co.