How to start a business blog
Discover how starting a business blog can help grow your credibility, brand awareness and profits through the connections you create with customers.
Presented by Chase for Business.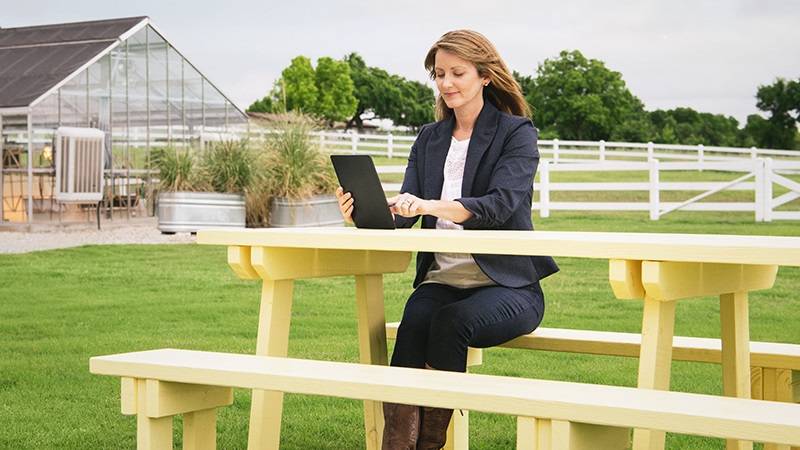 The most successful companies know that selling is all about connection. Your customers need to trust that they can turn to you — not just for products, but for answers. For insight. For expertise.
Starting a business blog can help position your company to earn that trust and boost your business. On average, small businesses that blog gain 67% more leads than those that don't.
One way to do this is to start a business blog that truly connects with your customers.
What is a business blog?
A business blog is a web page where people can find news, short articles and stories from your company. It's a channel your company can use to regularly generate and share engaging content that's meaningful to your customers and industry.
Creating a business blog can help you meet several common marketing goals at once:
Increase brand awareness. Every blog post can give you a new chance to market your business, help widen your reach and introduce your company to prospective customers.
Improve visibility. Regularly writing and updating your business blog can enhance search engine optimization (SEO). As a result, customers searching for relevant products or services online are more likely to find your business.
Educate potential customers. Whether your products are simple or complex, your business blog can help customers learn how to make the most of them. It's a great way to share how-to guides, discuss ways to use products and provide other educational content.
Establish yourself as an expert. By regularly publishing well-researched and well-crafted blog posts, you can position yourself and your business as an authority in your industry.
Sell products and services. You don't have to make a hard sell to convert customers. Great blog content — even if it's industry news or education — can help sell products and services, too. In fact, the more credibility you gain, the more it can help grow your business.
How to start a business blog
To start a successful business blog, you'll need a few initial hours for setup and planning, as well as consistent time slots for writing and strategy going forward. These five steps can help you get your blog up and running.
1. Set up your business blog
You can set up your business blog by updating your current website to include a blog section or by starting a website with a user-friendly platform like WordPress or Squarespace. Starting a new site may require you to purchase a domain.
You can use a pre-made template for your blog or hire a web designer to create a unique layout. Experts recommend putting your reader first no matter which approach you take and choosing a blog format that's easy to read and navigate.
2. Define your purpose
The most important work starts before your fingers hit the keyboard. What do you want your business blog to accomplish? Do you want to sell more products? Help customers find new ways to use your services? Identify your top-level goal?
You can do some basic competitor research to learn how other companies in your industry are approaching their blogs, and think of ways to make yours unique.
3. Research your audience
Once you know what you want out of your blog, it's time to figure out what your customers want. By researching your target audience, you can find out what kind of content they're looking for. You can also use free tools like Google Trends to find popular topics or paid tools like BuzzSumo to find trending articles in your industry.
Other ways to tap into your customers' needs include social media polls and digging into the frequently asked questions from your customer service team.
4. Create a content strategy
After you have your list of topics, transform them into a content strategy. Ideally, you'll want to create a variety of content types for your blog. Popular blog posts formats include how-to articles, numbered lists and case studies.
Which topic goes best with each content style?
Once you answer this, you can think about how frequently your team can produce blog posts, and develop an editorial calendar with publication dates for each article. One way to do this is to account for product launches, holidays and other seasonal events. Add relevant content ideas for each topic.
To keep the content fresh and stay relevant as an industry expert, you can publish new blog articles weekly or monthly.
5. Create high-quality blog posts
Now you're ready to get to writing. By working with your team or hiring a writer, you can produce consistent, high-quality blog posts that deliver on your established strategy, reflect your company's tone of voice and speak in a way that your audience can understand.
To make your blog posts easier to find online, you'll also need basic knowledge of search engine optimization (SEO) techniques. For example, using relevant keywords in your blog posts can help increase traffic to your website.
Four ways to promote your business blog
The more traffic your business blog gets, the higher your chances are of reaching your marketing goals. There are many promotional tactics you can use to promote your blog. Below are four different ideas to get you started.
Ask readers to subscribe
When a potential customer visits your site for the first time, ask them to subscribe so they return to your site again and again. Talk with your website designer about adding a popup or a message that makes subscribing easy.
To subscribe, customers can use their choice of blog reader apps. These apps pull updates from the Really Simple Syndication (RSS) feed that your blog automatically creates. You might also consider setting up an email list that automatically sends updates when you publish a new post.
Invite readers to share
Getting the same visitors to return to your website over and over can give your business a boost. But getting them to encourage other people to visit can be even more helpful. And when your blog content is great, they'll want to share.
You can add a social sharing plugin to your blog so readers can post your blog articles on their own social media pages with a single click.
Post links on social media
You can also post links to your blog posts on your business's social media pages. Depending on the size of your audience, you could reach hundreds or thousands of people who have already shown interest in your business.
Many blog links shared on social media include a compelling post. By creating a teaser, you can help your followers understand the value they'll get from your content. Some ways to do this are by asking an interesting question that your blog post will answer, making a connection to a pain point you know your customers are experiencing or using a call to action to inspire them to click through and read.
Share it with your email list
Your email list is another great way to drive people to your business blog. Every time you send an email out to your subscribers, ask them about new products or share special discounts, you can include links to your blog posts — or even include them in your email signature.
By keeping your blog at the top of their inbox, you can help pique the interest of lapsed customers and turn one-time buyers into loyal clients.
A business blog is a vital part of any effective digital marketing strategy. Along with social media, email marketing and digital advertising, starting a blog can be an effective way to meet major marketing goals. As your business grows, remember that you can manage your finances online with a business banking account or apply for a small business loan to keep up with your evolving circumstances. Meet with a business banker to discover all options available to you.
You can use a pre-made template for your blog or hire a web designer to create a unique layout. Experts recommend putting your reader first no matter which approach you take and choosing a blog format that's easy to read and navigate.
For informational/educational purposes only: The views expressed in this article may differ from those of other employees and departments of JPMorgan Chase & Co. Views and strategies described may not be appropriate for everyone and are not intended as specific advice/recommendation for any individual. Information has been obtained from sources believed to be reliable, but JPMorgan Chase & Co. or its affiliates and/or subsidiaries do not warrant its completeness or accuracy. You should carefully consider your needs and objectives before making any decisions and consult the appropriate professional(s). Outlooks and past performance are not guarantees of future results.
You should carefully consider your needs and objectives before making any decisions, and consult the appropriate professional(s).
JPMorgan Chase Bank, N.A. Member FDIC., ©2023 JPMorgan Chase & Co.