Chase Business Complete Banking℠ becomes a key ingredient for A Mano Artisan Pasta Co.
The COVID-19 pandemic didn't stop Maria Lara from starting her business. In fact, it was the impetus she needed to bring A Mano Artisan Pasta Co. to life.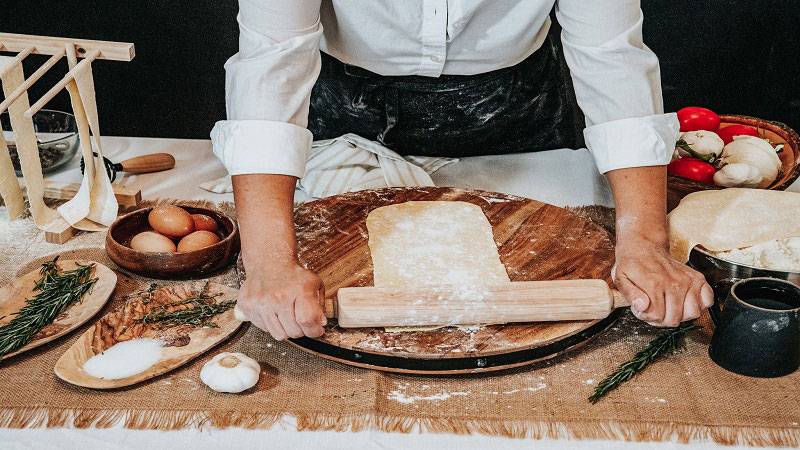 Maria Lara didn't set out to create a handmade-pasta company. At first, she was just making pasta for herself and a few friends and family members.
But then she finished graduate school just as the COVID-19 pandemic was beginning to wreak havoc on the job market. Every day, she would wake up and brainstorm new business ideas. "I was thinking of going into furniture and selling purses, but I never really connected with the product," she says. "And one day I woke up, and I was like: Pasta! This is it." Suddenly, a fulfilling hobby was starting to look like a viable business. A Mano Artisan Pasta Co. was born.
"The checking account is fantastic. The savings account has been fantastic as well. I just connect to the checking account, and I do an automated deposit every week."
Chase Business Complete Banking℠
– Maria Lara, Founder, A Mano Artisan Pasta Co.
Rolling out the dough and rolling up her sleeves
Growing up in Ecuador, Lara didn't eat very much pasta. "The only kind available was the boxed kind you find at the store," she says. "I didn't like it." Years later, an autoimmune disease suddenly limited her dietary options. By necessity, she started experimenting with her own gluten-free recipes, adding pasta to her repertoire after her boyfriend bought her a small pasta maker as a graduation gift. She was hooked. Soon, she'd developed recipes for full-gluten versions and even filled pastas like raviolis.
Once Lara had decided to make pasta her business, she enlisted friends and family as taste testers in exchange for free samples. She continually updated and tweaked the recipes, using a survey to record responses to questions such as: Too salty? Too sweet? How much would you pay? How often would you eat it? "That was my market research," she says. It helped her settle on a final recipe that would be popular in the Salt Lake City area.
Lara knew she couldn't stay in the R&D phase forever. At some point, she'd have to stop giving away free samples and start making money. She gave herself a firm, if artificial, deadline of August 2020 to finalize her recipes and start selling.
When she needed help, Chase for Business came through
Experimenting with different shapes and ingredients is in Lara's comfort zone. Running a business? Not so much. When it came time to find a banking partner for A Mano Artisan Pasta Co., Chase for Business was her first choice since she already did her own personal banking with Chase. "I think people are what make a business," Lara says. "And the people that I've been able to interact with at Chase for Business have been fantastic."
She sat down with a manager at her local branch to talk through her business's banking needs. Lara became one of the first Chase for Business customers to enroll in Chase Business Complete Banking℠, a business checking account that includes everything you need to get your business going. Features include a low- or no-fee checking account and built-in payment acceptance. The manager at Chase also set her up with a business savings account. Lara has been happy with the convenience of her Chase accounts.
"I just connect to the checking account, and I do an automated deposit every week," she says. In the future, Lara is considering a business credit card, which may give card members a 0% intro APR for the first year. Those interest savings could help her buy a bigger pasta machine once she outgrows the one her boyfriend gave her.
Lara admits she made a few mistakes early on. For example, one of her first clients asked her to adjust the sales tax on an invoice. "I had no clue," she jokes. That led her to a long talk with the Utah State Tax Commission. Fortunately, a helpful employee was able to point her in the right direction and get her started on applying for the appropriate tax licenses.
Lara ran into another obstacle when trying to find the right commercial kitchen space to prepare her handmade pasta. "Commercial kitchens are very, very expensive, at least for a small business like mine," she explains. The kitchen she had been renting was cutting into her profits.
After asking friends and community members, she came across an unorthodox solution: partnering with a Salt Lake City museum and events hall, The Leonardo. The museum has a commercial kitchen it uses for events, which have been paused due to COVID-19. Lara moved into the new space in December 2020 and now has plenty of space to make her product. She also plans to teach (appropriately distanced) classes out of the new space so that she can spread the love of pasta-making throughout her community.
'If I can do it, anyone else can do it'
These days, A Mano Pasta is selling so well that Lara has had to cap orders so she can manage both the business and her other responsibilities. "[I'm] always thinking two, three months ahead and trying to do the steps and taking the right measures to get me there," she says. For instance, she wants to distribute her pasta to grocery stores, and she's hopeful that one day, she'll be able to leave her day job to focus entirely on her business.
Her advice for those looking to start a business is to focus on their passions. "Make sure you love it, because you literally dream about the business, wake up thinking about the business. Throughout the day, you're always thinking about the business," she says. That passion can carry you through the hard work and times of uncertainty. "If you're passionate about it, and you care about the people, it's like fuel that keeps you going," she adds.
If you're starting a new business or ready to take your business to the next level, learn more about how Chase Business Complete Banking can help or open an account online today.
For informational/educational purposes only: The opinions expressed in this article may differ from those of other employees and departments of JPMorgan Chase & Co. Opinions and strategies described may not be appropriate for everyone and are not intended as specific advice/recommendation for any individual. . Information has been obtained from sources believed to be reliable, but JPMorgan Chase & Co. or its affiliates and/or subsidiaries do not warrant its completeness or accuracy. You should carefully consider your needs and objectives before making any decisions and consult the appropriate professional(s). Outlooks and past performance are not guarantees of future results.
The testimonials on this page or provided through linked videos are the sole opinions, findings or experiences of our customer and not those of JPMorgan Chase Bank, N.A. or any of its affiliates. These opinions, findings, or experiences may not be representative of what all customers may achieve. JPMorgan Chase Bank, N.A. or any of its affiliates are not liable for decisions made or actions taken in reliance on any of the testimonial information provided.
You should carefully consider your needs and objectives before making any decisions, and consult the appropriate professional(s).
JPMorgan Chase Bank, N.A. Member FDIC. Equal Opportunity Lender, ©2022 JPMorgan Chase & Co.
There is a $15 Monthly Service Fee (MSF) that we'll waive if you meet any of the below qualifying activities for each Chase Business Complete Checking℠ account in a monthly statement period. Qualifying activities for how to avoid the MSF: (A) Maintain a linked Chase Private Client Checking℠ account, (B) Meet Chase Military Banking requirements, or (C) Fulfill at least one of the following qualifying activities: (1) Maintain a Minimum Daily Ending Balance of at least $2,000 in the Chase Business Complete Checking account each business day during the monthly statement period, excluding the last business day of the statement period; (2) Have at least $2,000 of aggregate eligible deposits (net of chargebacks, refunds, or other adjustments) into the Chase Business Complete Checking account, at least one day before the end of the monthly statement period, using one or more of the following: Chase QuickAccept℠ including Chase Smart Terminal℠, InstaMed Patient Payments and InstaMed Patient Portal and/or other eligible Chase Payment Solutions℠ products. Eligible Chase Payment Solutions products have a transaction history that is viewable on Chase Business Online, Chase Connect®, or J.P. Morgan Access®. The cutoff time for eligible deposits is 11:59 PM Eastern Time one day prior to the last day of your Chase Business Complete Checking monthly statement period; or (3) Spend at least $2,000 on eligible Chase Ink® Business card purchases in the most recent monthly Ink card billing cycle, which may be different than your Chase Business Complete Checking monthly statement period. Eligible purchases must be made using Ink Business Card(s) associated with the same business as your Chase Business Complete Checking account, as reflected in Chase records, and must earn Chase Ultimate Rewards® points. Certain purchases and transactions are excluded from earning Ultimate Rewards points, as described in your Rewards Program Agreement available on chase.com/ultimaterewards. For complete details, please review the Additional Banking Services and Fees for Business Accounts at chase.com/business/disclosures or visit a Chase branch. This information is subject to change.
Deposits are subject to limits, verification, fraud monitoring, and other restrictions. QuickAccept is not available in U.S. territories or outside the U.S. QuickAccept usage subject to eligibility, terms of service, monitoring and further review. Message and data rates may apply.