Daymond John on how to transform difficult situations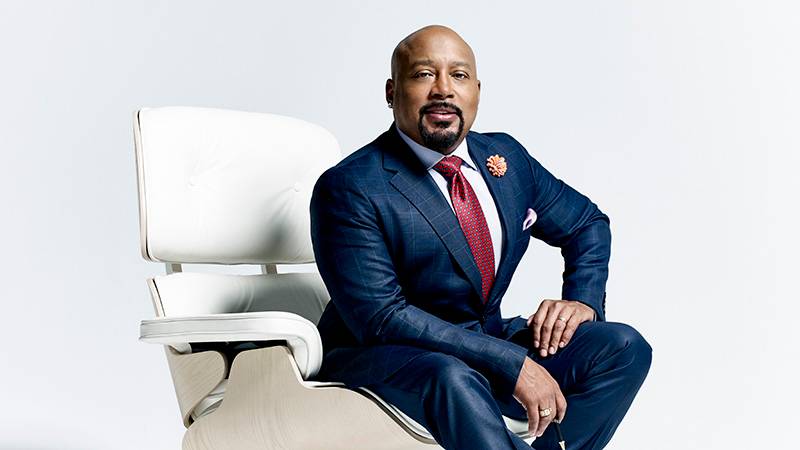 With his third book, "Powershift," author and "Shark Tank" star Daymond John promises to help readers "transform any situation, close any deal and achieve any outcome." With the coronavirus pandemic disrupting so many aspects of doing business, John's method for shifting situations in your favor has extra relevance.
"Whatever your circumstances are, this economy, this environment—it's here," says John, who believes that feeling in control is essential for advancing through any business environment, especially today's. "We can't change what's happening, but we can change our ability to adapt."
John shared many timely insights in a recent conversation about building influence, negotiating, nurturing relationships and activating the "Powershift" principle when it's needed most.
Q: Your book was written before the pandemic, but it seems to speak directly to this moment. What was the inspiration behind "Powershift"?
I don't write books just to write them. I write them because I feel there's something not being addressed.
In my two previous books—"The Power of Broke" and "Rise and Grind"—I explained how you don't need money to make money, and I taught how to make the most of 24 hours. But I kept hearing from people that while they understood the principles, they didn't feel they had any power. They needed something else before they could practice the lessons I offered. They needed to feel they were in control of their lives.
I decided to look at the Kris Jenners, Mark Cubans and Pitbulls of the world, as well as people you may not have heard of, and unpack how they've been successful in multiple areas of their lives. I also reflected on my own journey to success, and I started to find a thread.
The secret to power is negotiation. But it's not what we've spoiled the public to believe. For most, it's not eight minutes of hard negotiations on "Shark Tank," where dreams are shattered or made and innovators ride off into the sunset. The people who powershift their lives understand that it starts with influence and takes off when they start negotiating for the things they want over the long haul. That's what people don't pay attention to with negotiation: the other person. The real value of a win-win situation is the relationship you develop post-negotiation. Nurture that relationship.
Q: COVID-19 has changed almost every aspect of life. What's one of the first things small-business owners should do when navigating this new reality?
First, take inventory of your situation. How much time do you have right now? Do you have a lease? What software or equipment do you have? Do you have staff? What's your skill set? Who do you have in your contacts? Assess your inventory, then see how you can put it together to adapt to your situation.
For example, I was advising a gym owner recently. His members weren't working out, and he was worried they were going to drop their memberships. I said, "You have equipment. Send it to their homes and let them borrow the machines while you're closed. Who else is in your neighborhood? Oh, you have a juice company and nutritionists nearby. They're delivering but not at volume, so ask them if they'll offer a 30 percent discount for your members. It's a win-win for everyone."
It's not always going to be easy, but figuring out this new reality starts with taking inventory. You can't give a prescription if you haven't diagnosed the problem.
Q: After business owners take inventory, what's the next step?
Ask yourself, Why? Why did you start the business in the first place? Why are you continuing the business? Are you doing it to impress other people? Are you doing it because you believe society needs what you offer? A lot of entrepreneurs are going through the motions. They're on the hamster wheel and don't know their "why." As hard as this time is, it's also a chance to step back and look at things with a clean slate.
Internal power is based in self-reflection. You cannot make the right decision or action without understanding the benefit. Once you know your why and start to move with purpose, like the gym owner I mentioned, your business will resonate even stronger with your customers.
Q: In "Powershift" you talk a lot about the importance of building relationships. How does that work in times of change?
Influence comes from authentically relating to people, and authenticity comes from knowing your "why." The successful people in the book took affordable steps to get closer to their why. They educated themselves, sought out guidance, started applying themselves and gained confidence. Today, that might mean finding people on social media. Looking for win-win situations. Continue to ask people how you can help them—not how they can help you. That's how influence is built.
Q: Some business owners are facing tough negotiations with creditors, suppliers and customers. What's your advice on how to approach these negotiations?
Take the initiative. A lot of people never take the first step of picking up the phone. Do your homework. Educate yourself on what the bank is offering or is willing to do. Ask questions: How can I make this easier for you? How can I make this idea more attractive to you? Are there any other ways that we can reach some form of agreement? Can you offer me other opportunities?
When you're driving down the street and you see someone sitting on the hood of their car on the side of the road, you may think, "It's OK, somebody's on their way." But if you see somebody pushing a car, what happens? You get out and help them push. It's clear what they need. And you can empathize. Plus, they're taking action. When people see someone taking initiative, it's natural to want to help that person. You think, "Man, they're doing something. How can I be part of it?"
Q: Any parting wisdom for business owners during this time?
As bad as things may seem, keep looking for opportunity. Look for how you can help people and serve new needs. I was around during the 1998 market collapse, the dot-com bubble crash, 9/11 and the 2008 market crash. Every single time that these economic downturns happened, ingenuity surfaced and new products were born. People powershift. They take control and create opportunities for true change.
Ready to put Daymond John's principles into action? Download the free "Powershift" workbooks.
Daymond John is an American businessman, investor, television personality, author, and motivational speaker. Mr. John is compensated by Chase.
The testimonials on this page or provided through linked videos are the sole opinions, findings or experiences of our customer and not those of JPMorgan Chase Bank, N.A. or any of its affiliates. These opinions, findings or experiences may not be representative of what all customers may achieve. JPMorgan Chase Bank, N.A. or any of its affiliates are not liable for decisions made or actions taken in reliance on any of the testimonial information provided.
You should carefully consider your needs and objectives before making any decisions, and consult the appropriate professional(s).
Participants compensated
For informational/educational purposes only: The opinions expressed in this article may differ from those of other employees and departments of JPMorgan Chase & Co. Opinions and strategies described may not be appropriate for everyone and are not intended as specific advice/recommendation for any individual. Information has been obtained from sources believed to be reliable, but JPMorgan Chase & Co. or its affiliates and/or subsidiaries do not warrant its completeness or accuracy. You should carefully consider your needs and objectives before making any decisions and consult the appropriate professional(s). Outlooks and past performance are not guarantees of future results.
JPMorgan Chase Bank, N.A. Member FDIC. Equal Opportunity Lender, ©2022 JPMorgan Chase & Co.