How does Daymond John find a mentor?
The best mentors may be closer than you think. Discover how to find them with some tips from Daymond John.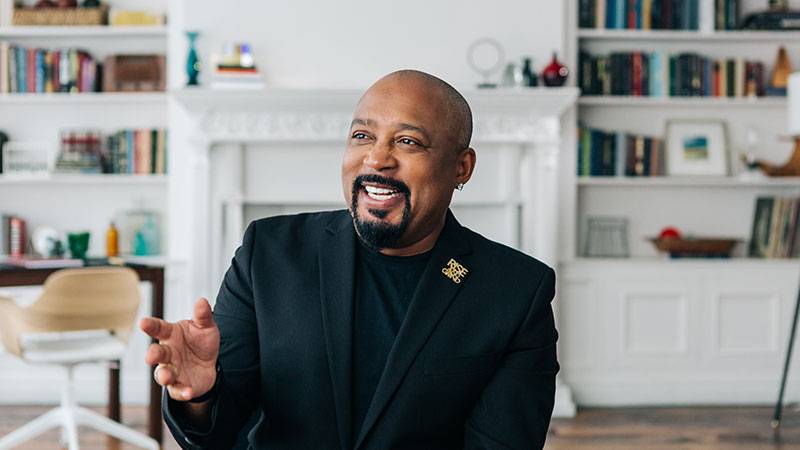 Mentorship is everything in business. No one is born knowing how to negotiate a deal or read a balance sheet. We all have to lean on others, especially when we're starting out. Entrepreneurship is a team sport. Remember that the next time you see someone you perceive as successful. How many people helped them reach that point?
I'm the perfect example. I wouldn't be the man and the businessperson I am today without mentorship. One of my early mentors was LL Cool J. When I was coming up as a young Black entrepreneur, there weren't a lot of people who looked like me that I could look up to in the entertainment and business worlds. LL was the blueprint. Here was someone who started in the Queens neighborhood of Hollis and took his passion for hip-hop and urban culture mainstream. As his career grew and he went from rapper to actor to entrepreneur with million-dollar endorsements deals, he never stopped supporting the community that he came from and enforcing its strength. That's what we wanted to do with FUBU — lift up and celebrate hip-hop culture and fashion for a wider audience. LL Cool J was the perfect mentor in this regard.
But not every mentor needs to be a celebrity or a mogul. I see mentors all around me. They don't need to be rich CEOs or respected professors to teach you important lessons. With the right approach, you might find your next mentor where you least expect it.
"Mentors are all around you, teaching and leading by example. I'm thankful for all of the mentors who have helped me throughout my career and life."
– Daymond John, "the People's Shark," Founder and CEO of FUBU
Lean on generational wisdom
I find mentors within my own family, particularly strong women. My mother and daughters have taught me so much about how to respect women. My mother was my original mentor. She made sure I had the right values in life. I give her that credit whenever I can because, when I was younger, I didn't always appreciate the lessons she tried to teach me. "Money is a great slave but a horrible master," she used to say. In other words, it's what you do with your money that matters, not just the bottom line. That kind of advice has helped me keep my focus where it should be at those times in my career when I could've gotten a bigger head.
These days, my daughters are some of my biggest mentors. You have two choices when you have children and start to get older: You can talk about how kids today don't know what they're doing, or you can stop and listen. I choose to listen. My daughters explain new technology to me all the time, and they're some of the best teachers I've had.
Look around the corner — literally
What you really need in a mentor is someone who knows the fundamentals of business. But that doesn't mean you have to travel to Wall Street or Washington or anywhere, for that matter. One of my early mentors was the owner of a corner store in my neighborhood. He operated a retail business in an urban area for over 20 years. You can't get a much better business education than that. Within your own community, you can find business leaders who have been through it all — expansion and recession, upturns and downturns. Those hard-earned lessons are right there waiting for you to tap into.
You might get access to these people in any number of ways. I like to tell the story of one of my first businesses — a $1-per-ride commuter van service in Queens. Commuters would take my van because it was cheaper and more reliable than the MTA. Along the way, I met some great mentors. These were people from all walks of life: stockbrokers, businesspeople, teachers, cleaners. It was a side hustle, but it was also an education on four wheels. These people were pillars of the community, doing the work that keeps everything running. I could have been paying them tuition, I learned so many important business and life lessons. Instead, I was charging them a dollar.
Work on your network
Sometimes your mentor will need to be that more conventional business leader — an executive at a large company, perhaps. That's why I tell people to spend as much time as possible building their professional network online and in person. Networking isn't just for finding new employees or employers. Work that network for the mentors who can get you where you want to go next.
When you do get that opportunity, remember that mentorship isn't a one-way street. A mentor's time is valuable, so they want to get something out of the relationship, too. A tip to get yourself in the door: Find out what charitable cause or social issue is really important to your would-be mentor. Then, when you ask for some of their time, mention that you'd be willing to volunteer a few hours for their favorite charitable organization. I met one of my current proteges this way. She volunteers at a local animal shelter to pay it forward. Genius.
Learn from your customers
That's right, I said your customers. I learned this when FUBU started taking off. People would actually walk up to my partners (Keith, Carl, Jay) and me on the street and give us ideas and suggestions for the products. This was the original social media — "Hey, Daymond!" Not every idea was right. But when we heard the same things over and over, we would make those changes.
Find the opportunity to listen to your customers. Ask them for their thoughts on what you're offering and how you could do it better. Do it in person if at all possible. You will be surprised how much you can learn when you start thinking of your customer as your mentor. Who could possibly know more about how to appeal to the customer than … well, you get it.
I believe that life is a series of mentors. Some will be business experts, and some will help you see other perspectives. You might have mentors for your health goals or in your spiritual life. The most important thing is to look around and continue to build those relationships. Your next mentor could be where you least expect it.
The testimonials on this page or provided via linked videos are the sole opinions, findings or experiences of our customer and not those of JPMorgan Chase Bank, N.A. or any of its affiliates. These opinions, findings or experiences may not be representative of what all customers may achieve. JPMorgan Chase Bank, N.A. or any of its affiliates are not liable for decisions made or actions taken in reliance on any of the testimonial information provided.
You should carefully consider your needs and objectives before making any decisions, and consult the appropriate professional(s).
Participants compensated.
For informational/educational purposes only: The views expressed in this article may differ from those of other employees and departments of JPMorgan Chase & Co. Views and strategies described may not be appropriate for everyone and are not intended as specific advice/recommendation for any individual. Information has been obtained from sources believed to be reliable, but JPMorgan Chase & Co. or its affiliates and/or subsidiaries do not warrant its completeness or accuracy. You should carefully consider your needs and objectives before making any decisions and consult the appropriate professional(s). Outlooks and past performance are not guarantees of future results.
JPMorgan Chase Bank, N.A. Member FDIC. Equal Opportunity Lender, ©2023 JPMorgan Chase & Co.