Daymond John's 15 things effective leaders have in common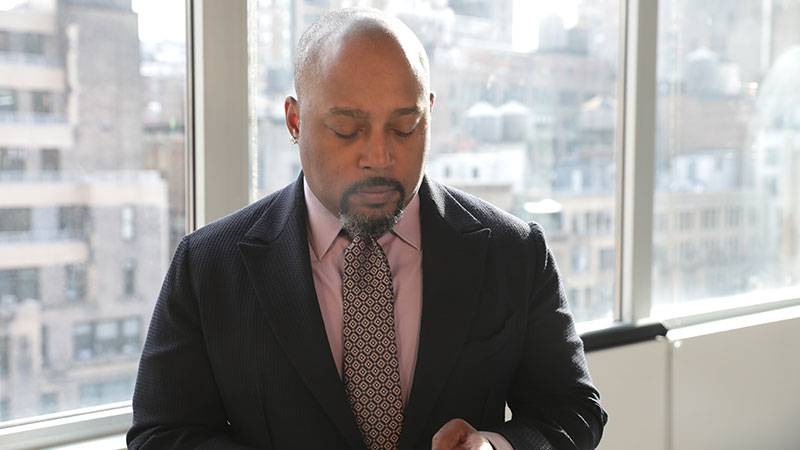 As an entrepreneur, business owner and investor on ABC's "Shark Tank," I've been lucky enough to meet and work with some of the world's top business leaders. Through those conversations, I've learned the shared characteristics and habits behind their success.
When I'm considering investing in a new company, I look beyond the business idea and at the founders themselves. How business leaders react to challenges, overcome obstacles and bounce back from failure says a lot about what kind of partner they'll be and the level of success they'll achieve.
If you're looking to build your own business, it's important to recognize the personal and professional skills that you already have, as well as the ones you may need to work toward. There may not be one specific way to make it to the top, but I've found that great business leaders have a lot in common, which is something we can all learn from.
The best way to become a leader is to act like one. See how many of these top 15 leadership habits and attributes you already possess and which ones you can work toward.
"I invest in the person first, because in the event the business fails, the person and I can move forward to create another business."
– Daymond John, "the People's Shark," Founder and CEO of FUBU
Chase Business Knowledge Center
1. Love what you're doing
When I start working with a new business owner, the most important characteristic I'm looking for is passion. I often ask them why they started the business in the first place, because their "why" showcases their inspiration, drive and focus. A leader with excitement is an integral component in the company's overall success. I have to see that twinkle in their eyes and know that they love what they're doing before I can take them seriously or consider investing.
2. Treat your team as family
Top leaders depend on trusted people to grow and scale their businesses. Once an employee knows that you care about them, they will do everything they can to make sure you and your business are prosperous. When someone earns my trust, I go out of my way for them, just as they have done for me. As I learned from my early days of running FUBU, the only thing more important than the numbers are the people. Ensure your team feels that support from you every day.
3. Nurture a strong support system
Mentors, by far, are the most crucial elements of lucrative businesses. Before investing in a company, I make sure leadership has people around them they can learn from. As you build your business, create a support system with experienced leaders in your field. As I always say, align yourself with the right people, forge the right relationships, and you'll have success in the long run.
4. Nail your pitch
When I look to invest in a business, I make sure leadership can relate and share relevant information quickly. My rule of thumb is that if it's going to take you 20 minutes to explain your business or idea, you don't understand it as much as I don't understand it. Tailor your pitch to specific investors to help them understand and connect with your vision.
5. Embody a beginner's mindset
The strongest business minds never stop learning. Critical components like finance and investing are necessary evils across all industries. I make sure any leader I invest in has the beginner's mindset of constantly learning, while striving to know everything they can about their industry.
6. Don't wait for perfect
I've learned from top leaders that it's important to not get caught up in waiting for the perfect time to launch your idea or product, or you might wait forever. Acting on an idea is crucial. Great leaders remember that every problem can be solved if they use common sense while applying the right research and techniques.
7. Network
Outstanding leaders constantly network and stay connected with their customers, their partners and their investors. Effective business owners spend a portion of each day networking, often developing a signature style in connecting with their contacts in a genuine, effective manner. This commitment to maintaining connections can help the business feel more authentic and trustworthy.
8. Move and meditate daily
Successful people exercise on a regular basis and often maintain a meditation practice. I'm frequently impressed by business leaders who find their way to mute the noise of the world and calm the chaos, just to reconnect with their core and sense of purpose. The success of the leader often correlates with their dedication to these personal rituals, even for just minutes each day.
9. Set primary goals
Top leaders know how to keep their eyes on the prize. As an entrepreneur, you will consistently have more and more demands on your time as your company grows. During this phase, it's crucial to remain focused on your short- and long-term goals. I recommend setting clear goals that you want to accomplish in six months, two years, five years, 10 years and 20 years, as well as breaking down the actions you will take to achieve those goals. Refer to your goals regularly to ensure you are on the right path.
10. Fail but fail fast
A common trait I share with my fellow "Shark Tank" investors is that we are not afraid to fail. We embrace and learn from our failures. When I first got into business, I failed more than I succeeded. Great leaders learn to fail fast, first stumbling and then learning from their missteps to hone and improve. I look beyond the investment to determine if founders have the drive to recover from their mistakes and never quit. The best business leaders do what it takes to succeed no matter what.

11. Don't let the first "no" slow you down
Leaders who possess the dedication and drive toward their dream are hard to stop with even the most aggressive "no." As I discuss in my book "Rise and Grind": "For every successful person I know, they started out hearing "no" and they didn't stop until they heard "yes" — maybe not right away, but eventually." From bestselling author Kyle Maynard to television star Wendy Williams, most extraordinary people were told "no" time and time again before finding their success. While building your business, it's important to stay dedicated to your vision with hungry resilience.
12. Plan your time wisely
Strong business leaders think of their time like an attorney chasing billable hours, managing their calendars like someone else is paying them for it. Every meeting, every phone call, every business meal is programmed into their calendars to stay on top of everything. While leading your team, experiment with microprogramming small moments of time, such as different activities or topics every 10 minutes to maximize your potential. With the possibility to fill 1,440 minutes a day in meaningful ways, smart leaders think about how to fill each one wisely.
13. Find balance
The most effective business leaders usually have managed to downshift from the grind of their early careers, allowing them to discover the work-life balance needed to survive and thrive long term. When building a company, business leaders must instill the foundation of work-life balance from the beginning. Working hard while having fun is imperative for you and your team to survive over the long haul.
14. Touch it once
One of my favorite habits of powerful business leaders is their immediate and decisive action on anything crossing their desk. I've found that great leaders handle an email, bill or message the minute it's received, thereby only touching it once. Let this inspire you to avoid procrastination of mundane tasks and notice the relief you feel in not having to worry about it again.
15. Make it home for dinner
Business trips and dinners may make it difficult to spend evenings with our families, but effective professionals make the effort to be home for dinner and spend quality time with their families as regularly as possible. Great leaders know that the support system of their families is the most important investment, one that pays dividends for the rest of their lives.
The bottom line
There's no one-size-fits-all approach to accomplishing goals and making it to the top. Every effective business leader follows their own path. And not all of them possess every one of these characteristics or maintains these habits. Just remember the most important thing is to stay true to yourself and your customers. The rest will come.
The testimonials on this page or provided via linked videos are the sole opinions, findings or experiences of our customer and not those of JPMorgan Chase Bank, N.A. or any of its affiliates. These opinions, findings or experiences may not be representative of what all customers may achieve. JPMorgan Chase Bank, N.A. or any of its affiliates are not liable for decisions made or actions taken in reliance on any of the testimonial information provided.
You should carefully consider your needs and objectives before making any decisions, and consult the appropriate professional(s).
Participants compensated.
For informational/educational purposes only: The views expressed in this article may differ from those of other employees and departments of JPMorgan Chase & Co. Views and strategies described may not be appropriate for everyone and are not intended as specific advice/recommendation for any individual. Information has been obtained from sources believed to be reliable, but JPMorgan Chase & Co. or its affiliates and/or subsidiaries do not warrant its completeness or accuracy. You should carefully consider your needs and objectives before making any decisions and consult the appropriate professional(s). Outlooks and past performance are not guarantees of future results.
JPMorgan Chase Bank, N.A. Member FDIC. Equal Opportunity Lender, ©2023 JPMorgan Chase & Co.