Where businesses see themselves in 2021
Businesses everywhere are scrambling to find their place (literally) as we inch closer to a post-pandemic world.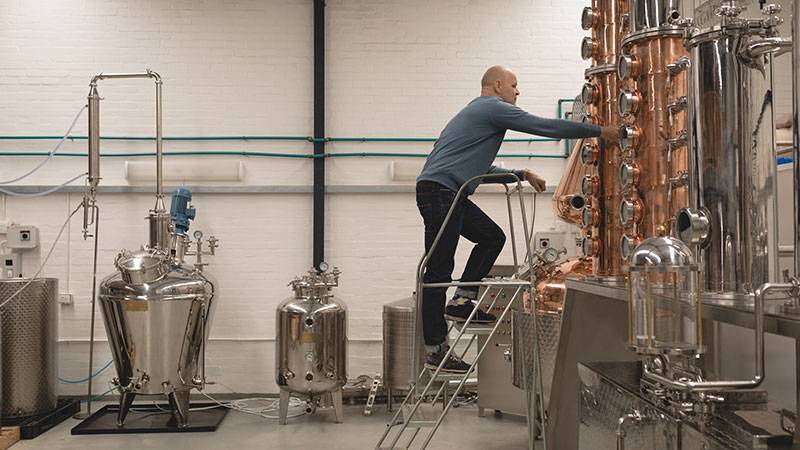 For businesses of all sizes, 2020 was a year unlike any other. Whether they own a local coffee shop or run a large restaurant group, many business leaders had to change their thinking and their business models overnight to survive the effects of massive restrictions and shutdowns that blanketed every industry.
These changes have affected business owners and managers as well as their employees. In fact, results from the Chase 2021 Business Leaders Outlook survey show that more than half (52%) of the employees surveyed have been working from home since the start of the pandemic. And these changes to the workplace may be more durable than any of us could have imagined.
While some employees enjoy the freedom and convenience of working from home, many miss the social interaction and collaboration that come with being in an office environment. Now, as more people receive vaccinations, businesses are being forced to reevaluate their models and plan for a post-pandemic world.
Nearly one-quarter of businesses surveyed plan to allow all employees to work from home indefinitely.
Plans for bringing employees back to the office in 2021 and beyond are varied, with some pointing toward more flexibility.
— 2021 Chase Business Leaders Outlook survey
Plotting where businesses are heading
Results of the Chase Business Leaders Outlook survey reveal that plans for bringing employees back to the office are varied, with some businesses turning their temporary work-from-home setups into their default setting. Others are developing guidelines and schedules for going back to the office, and the rest are trying to establish some combination of the two.
According to the results, more than three-quarters (77%) of business leaders believe companies should allow flexible working arrangements post-pandemic, and the majority (56%) are considering these types of arrangements for their own companies.
So how are business leaders thinking about their workplaces of the future? Let's take a look.
Going remote for the long haul
Nearly one-quarter (24%) of business leaders surveyed say they will allow employees to work from home indefinitely, citing better work-life balance (47%) and greater productivity (38%) as the top two benefits.
Of these businesses, some will move to a remote-first model, which provides an office setting for employees who occasionally want to work in that environment or who need a site for meetings from time to time, without mandating that employees work on-site. One benefit of this model is the ability to reduce expenses and overhead by downsizing office space. Many businesses are using these savings to reinvest in their current employees and hire top talent without the restrictions of geographical boundaries that come with having an on-site-only business.
Cost savings related to no one working on-site
Cost savings from lower travel expenses
Bridging both worlds with a hybrid model
Not every employee enjoys Zooming in their pajamas and sharing office space with their pets. Many miss the structure of an office and the camaraderie of working alongside colleagues. That's why businesses with service models that can afford flexibility are developing plans to cater to all their employees' workplace preferences. In fact, of those surveyed, 19% say they plan to shift to a hybrid model where some employees will return to the office and others will continue to work from home.
For many businesses, this is a new way of operating that could provide a competitive edge when recruiting new talent who want more ownership over where and how they work. To help develop a plan, individual businesses should look to their employees for guidance. This often involves having honest conversations about their goals, preferences and lifestyles. The plan should establish clear policies for all current employees as well as new hires so that everyone understands what's expected of them.
Going back to the office
While the majority (52%) of employees have been working from home since the start of the pandemic, results from the 2021 Chase Business Leaders Outlook survey show that of those business leaders polled, 60% expect all their employees to return to the office by July 2021, and 81% expect at least some of their employees to do so.
Businesses will be scrambling to ensure their workplace safety standards not only meet any state or local government guidelines and restrictions but also exceed employee standards. Understanding that it may be hard to convince some employees used to the convenience of teleworking to now commute to the office, many businesses are rethinking their approach. Companies of the future are shifting their focus to employee satisfaction and well-being — knowing that there's a strong link between these things and a company's overall success and profitability. The phrases "very satisfied with my work" and "feeling very supported by my manager" in an employee pulse survey could even be new key performance indicators for many companies moving forward.
Will bring employees back on a rolling basis
Will bring employees back all at once
Will employ a hybrid model
Where do we go from here?
As is true with most major business decisions, there's no magic formula. The leaders' views and expectations captured in the 2021 Business Leaders Outlook survey about the workplace of the future are as varied as the businesses themselves. But all the different approaches are fueled by the same ambition — to stay safe and make the most of the opportunities ahead.
About the 2021 Business Leaders Outlook survey
This survey was conducted by Chase Insights from November 11 to 16, 2020, among 1,014 business leaders across a variety of industries. The results of this online survey are within statistical parameters for validity and the error rate is plus or minus 2.5% for the findings, at a 95% confidence level.
If you haven't already, explore the Chase 2021 Business Leaders Outlook survey.
For informational/educational purposes only: The views expressed in this article may differ from those of other employees and departments of JPMorgan Chase & Co. Views and strategies described may not be appropriate for everyone and are not intended as specific advice/recommendation for any individual. Information has been obtained from sources believed to be reliable, but JPMorgan Chase & Co. or its affiliates and/or subsidiaries do not warrant its completeness or accuracy. You should carefully consider your needs and objectives before making any decisions and consult the appropriate professional(s). Outlooks and past performance are not guarantees of future results.
JPMorgan Chase Bank, N.A. Member FDIC. Equal Opportunity Lender, ©2022 JPMorgan Chase & Co.