Latino/latina husband and wife brewery owners share the ingredients of a successful business
From home brewing to booming business, Del Cielo Brewing Co. finds that shared values lead to success. Presented by Chase for Business.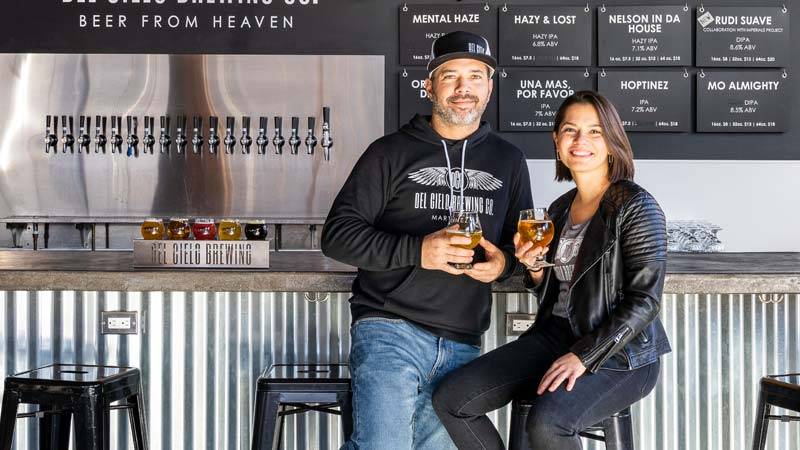 In a market flooded with craft beer, it can be difficult to make a splash. For Bay Area-based Del Cielo Brewing Co., success has come from building a community with a foundation of shared values like diversity and inclusion, supporting local businesses and treating their customers and business partners like family.
Originally from Colombia and Puerto Rico, husband and wife co-founders Luis Castro and Cielomar Cuevas became interested in craft beer when they met in Ohio while Luis was pursuing his MBA. After visiting a number of breweries, one of their shared passions, Castro wanted to add his own unique twist to the craft beer he loved, so he started home brewing for his family and friends. Soon after, he and Cuevas moved to the Bay Area and eventually decided to open up shop in Martinez, CA.
Because Castro and Cuevas decided on a blank canvas of a building, the construction process was complex and time-consuming. After over a year of work, they finally opened their doors in May of 2018.
The dynamic duo of quality and control
The business took off quickly. According to Cuevas, "Luis was brewing, packaging, selling, delivering, and we really needed to grow our team." She later added, "Prior to the pandemic, we used to have around 10 different beer labels. We've been focusing on creating new beers for our customers and now we probably have around 40."
Del Cielo creates unique flavors that their customers love and is dedicated to using the best ingredients possible, including flavorful hops that provide tropical and fruity flavors with unexpected additions like pink guava, soursop and other fruits from South America. But the real secret ingredient is a culture of inclusion. Castro and Cuevas support local organizations that share their values, and the pair has created a warm and welcoming space with community tables and personalized customer service that make their customers feel like they're part of the Del Cielo family.
"Everything that we use the card for, we get cash back. It's like when you get your jeans out of the laundry, and you find $20 — this is great."
-Luis Castro, Founder, Del Cielo Brewing Co.
Learn more about Chase Ink® business credit cards
While Castro is the brew master, Cuevas is the brand visionary, art directing the eye-catching labels and graphic design for Del Cielo beers such as Dude, You're Muted!, Órale and Guava Dreams that stand out on shelves and in taprooms all over California. Cuevas loves working with her husband. "We really understand and complement each other and help each other be better in the areas that are not our strong suits," she says.
To keep up with growth, Castro and Cuevas hired two sales representatives to manage and expand the wholesale territories and used their years-long relationship with Chase for Business to obtain expert financial advice.
Shared values: a match made in heaven
Del Cielo Brewing means "beer from heaven," so Castro and Cuevas look for more than just business value in their partners — they need a cosmic connection. "When choosing business partners, shared values are critical to us," says Cuevas. Del Cielo places great importance on inclusive organizations such as the Black is Beautiful, The Hidden Genius Project, The Bay Area Bike Project and Rainbow Community Center, which align perfectly with Chase's growing diversity and inclusion initiative.
Cuevas and Castro have worked hard to establish a family atmosphere at the brewery, so creating a personal relationship with their friends at Chase was another strong reflection of their values. "I think it's just the way Chase reacts," Castro says. "If there's something that I need urgently, they jump in to figure it out. So we get amazing support from our business relationship managers, Rich, and Majid, at the Chase office. Rich Gomez got us through the whole Small Business Administration approval and the different business credit cards that we needed, making sure we were getting the right products for us without massive fees."
Castro and Cuevas chose the Chase Ink Business Unlimited® credit card and Chase Ink Business Cash® credit card to give them more flexibility with their business spending. The 1.5% cash back feature on the Ink Business Unlimited card lets them apply rewards earned from purchases toward their balance. And the Ink Business Cash card provides an even higher cash back percentage on select business purchases. Chase helps Castro and Cuevas put more money back into their business every month so they can focus on their community outreach.
"Having a bank that supports other small businesses is really important," Cuevas says. "One thing we always look for when doing community outreach is to stay local." She appreciates that Chase has a strong local presence and supports small businesses and nonprofit organizations to strengthen the community. Castro adds that Chase feels like a family to him, with Rich being a true advocate of the businesses he works with and even volunteering to help Del Cielo at events.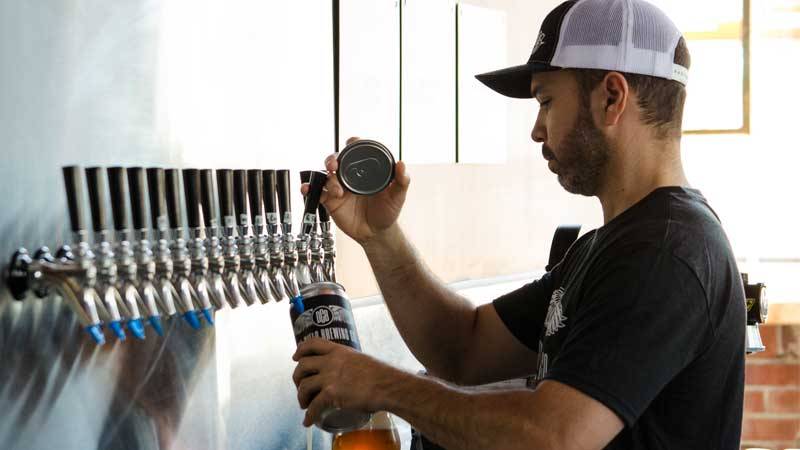 Keeping spirits up throughout the pandemic
2020 challenged many businesses to shift their thinking and reach customers in ways they never had before. For Del Cielo, developing an e-commerce presence was critical. "We went from selling beers wholesale in bars and restaurants to a totally different kind of business," Castro says. "Setting up our online store took us three full days with no sleep." Even with their taproom closed, Castro and Cuevas believed it was important to stay connected to the community. Del Cielo offered local home delivery throughout the height of the pandemic and still drops off kegs to a handful of customers.
But Castro and Cuevas wanted to do something more personal, more meaningful. They started with virtual tastings. Castro told participants what beers to buy ahead of time and then led a live, online video tasting. Cuevas remembers, "People really liked the interaction and the ability to ask questions on the spot."
Cuevas continues, "We needed to make sure that somehow we could make the Bay Area Craft Beer Festival happen, even if it wasn't in person. So we came up with BeerFest in a Bag in partnership with the Downtown Martinez & Co. Non-Profit. We reached out to our local community to see who was interested. We got five more breweries to participate, featuring two beers from each brewery." Customers were then able to pick up their festival bag and join the tasting from the comfort of their homes.
Laying the foundation for a future of growth
Castro and Cuevas continue to be pillars of their community through their support of local businesses and organizations. They have plans to grow Del Cielo Brewing Co. in the next two to three years, with the help of their partners at Chase. Their goal is to continue expanding their distribution beyond California, so stay tuned! And if you're searching for a business partner that has your back, talk to a Chase for Business representative today.
The testimonials on this page or provided through linked videos are the sole opinions, findings or experiences of our customer or mentee and not those of JPMorgan Chase Bank, N.A. or any of its affiliates. These opinions, findings or experiences may not be representative of what all customers and mentees may achieve. JPMorgan Chase Bank, N.A. or any of its affiliates are not liable for decisions made or actions taken in reliance on any of the testimonial information provided.
For informational/educational purposes only: The opinions expressed in this article may differ from those of other employees and departments of JPMorgan Chase & Co. Opinions and strategies described may not be appropriate for everyone and are not intended as specific advice/recommendation for any individual. Information has been obtained from sources believed to be reliable, but JPMorgan Chase & Co. or its affiliates and/or subsidiaries do not warrant its completeness or accuracy. You should carefully consider your needs and objectives before making any decisions and consult the appropriate professional(s). Outlooks and past performance are not guarantees of future results.
JPMorgan Chase Bank, N.A. Member FDIC. Equal Opportunity Lender, ©2023 JPMorgan Chase & Co