Instead of shutting down, they opened up to Chase for Business
When COVID-19 put their long-running businesses at risk, two owners worked with Chase to keep their staff — and their customers.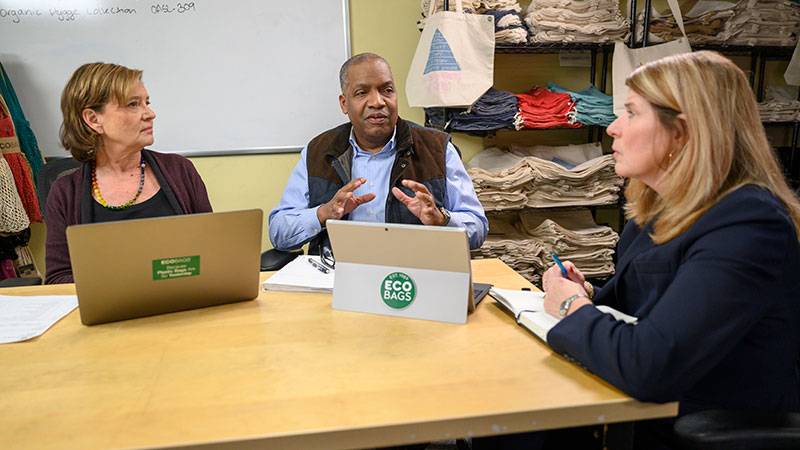 Po Wing Hong Food Market and ECOBAGS®, both successful businesses in New York, didn't have much in common before COVID-19 hit in March 2020. When the shutdown started, they didn't know what they would do, but they both knew where to turn.
Like many companies across the country, Po Wing Hong Food Market and ECOBAGS suffered shocks to their bottom lines, and neither had a playbook for how to weather a disruption of this magnitude. To formulate a plan of action, both chose to trust in their long-standing relationships with Chase for Business.
"Our business banker at Chase has been supportive throughout the years. She'll come down to us instead of us having to go to her, and that's important, because time is money!"
– Sophia Tsao, Co-owner and Executive Vice President, Po Wing Hong Food Market
After uncertainty, a business pushes for new opportunity
COVID-19 threw Po Wing into crisis. The 40-year-old traditional Chinese grocer is a cornerstone of Manhattan's Chinatown — a go-to store for Chinese delicacies, medicines and dried seafood. After Po Wing was forced to suddenly shut down its storefront operations, co-owner Sophia Tsao wasn't sure which path to take: temporarily lay off staff or tap cash assets in the hope of reopening soon.
Fortunately, Po Wing had a large, loyal customer base. And Tsao had a long-standing relationship with her business banker, someone who knew her family and business well and was a part of the community.

Together, Tsao and her Chase business banker created a plan to get through the crisis and even to look for new business opportunities. Her banker provided support to ensure the company's finances were in order and answered questions about the Paycheck Protection Program. With the help of Chase Merchant Services, Po Wing expanded its payment options as they transitioned to an order-ahead and pick-up model — like so many other retailers had to do — to continue serving its customers.
The Ng family continues to serve its community throughout the pandemic.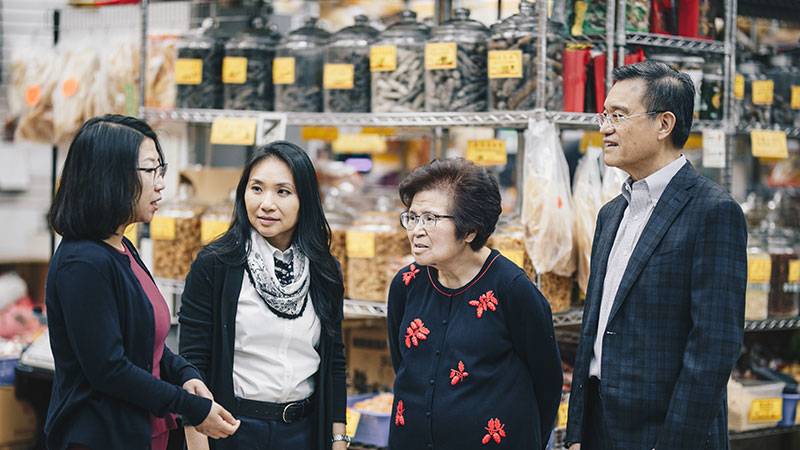 Shoring up a business by shoring up cash flow
Meanwhile, less than 50 miles away in Ossining, New York, ECOBAGS founder Sharon Rowe watched as the market for her reusable shopping bags evaporated, almost overnight. Even when stores began reopening across the country, many banned customers from bringing their own bags. Sales of her popular products plummeted.
Rowe, who founded the company in 1989, knew the business would come back. To manage the crisis, she focused on what she could control: shoring up her cash flow. With buyers, vendors and shippers around the world suddenly less reliable, she needed a whole new level of certainty about where her money was coming from and where it was going. She worked with her Chase business banker to manage cash flow so that ECOBAGS could reliably make quick turns on its deposits. This helped Rowe keep her staff employed. And with Chase Merchant Service, she had access to the tools that gave her a detailed view of her funds.
ECOBAGS continues to future-proof its business and our environment.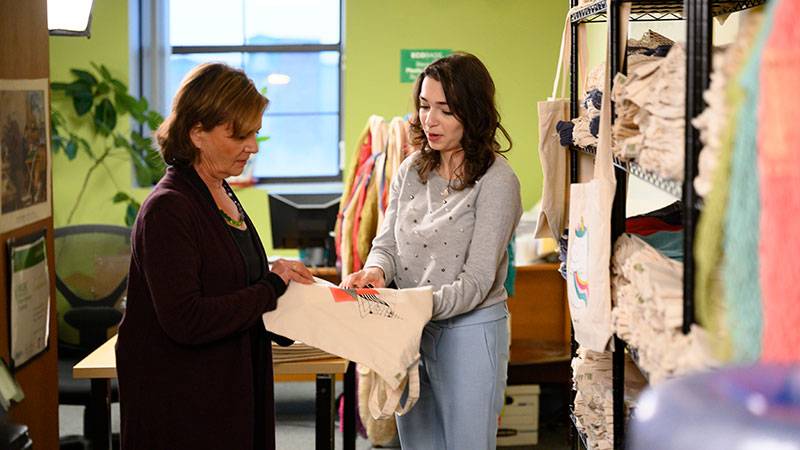 "Cash flow with a small business is what supports the business structure," she explains. "You have to be able to pay your vendors. You have to be able to pay your staff. That turn on cash is critical."

Today, stores are slowly allowing people to bring reusable bags and, just as Rowe predicted, business is picking up again. Her big idea is resilient, a fit for the times — which wasn't always the case. "People's mindsets are changing," she says of her environmentally sustainable business. "There's a difference we're making, and that actually feels pretty good."
Rowe's business is more sustainable, too. Her focus on cash flow means she's more prepared for whatever disruption might come next.
Tsao has also found new ways to build Po Wing's resilience. She'd long toyed with the idea of expanding into the online marketplace, and the shutdown gave her the urgency and the impetus to develop a solid rollout plan. Po Wing's online store opened this fall.
"I want to make sure that my parents' legacy continues," Tsao says, "and that we can continue to be a staple in Chinatown."
Learn more about Chase Merchant Services
As an industry leader in merchant services, Chase delivers simple, transparent and reliable payment solutions. Find out how we can help you grow your business.
For informational/educational purposes only: The opinions expressed in this article may differ from those of other employees and departments of JPMorgan Chase & Co. Opinions and strategies described may not be appropriate for everyone and are not intended as specific advice/recommendation for any individual. Information has been obtained from sources believed to be reliable, but JPMorgan Chase & Co. or its affiliates and/or subsidiaries do not warrant its completeness or accuracy. You should carefully consider your needs and objectives before making any decisions and consult the appropriate professional(s). Outlooks and past performance are not guarantees of future results.
The testimonials on this page or provided through linked videos are the sole opinions, findings or experiences of our customer and not those of JPMorgan Chase Bank, N.A. or any of its affiliates. These opinions, findings, or experiences may not be representative of what all customers may achieve. JPMorgan Chase Bank, N.A. or any of its affiliates are not liable for decisions made or actions taken in reliance on any of the testimonial information provided.
You should carefully consider your needs and objectives before making any decisions, and consult the appropriate professional(s).
JPMorgan Chase Bank, N.A. Member FDIC. Equal Opportunity Lender. ©2023 JPMorgan Chase & Co.