Daymond John's challenge: Hire someone smarter than you
How do you make sure you have the best team in the game? Fill it with people smarter than you, says Daymond John.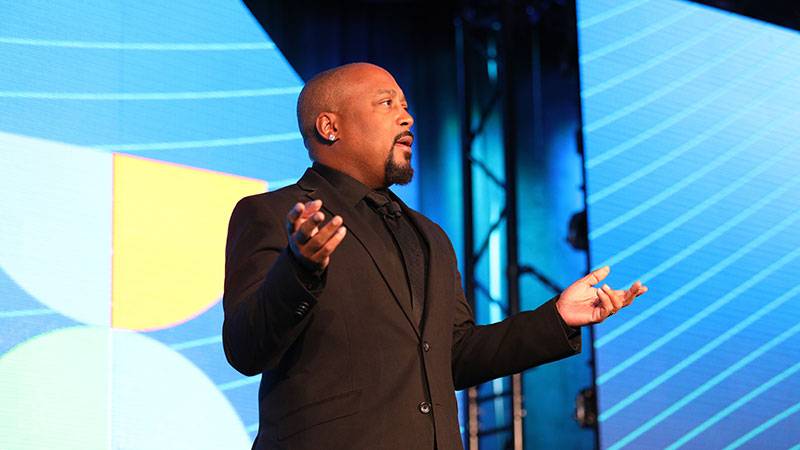 Putting together a winning team is the most important thing you will ever do as a business leader. A strong team will keep the ship afloat when you're in that important meeting or taking care of your family. Most of my team started as interns and worked their way up through the organization, learning about themselves and teaching me along the way. They all brought something to the organization no one else could. So how do you build a team you can trust not just to follow your orders but to think on the fly and come up with innovative solutions?
My approach is a little different from most. I'm not looking for a bunch of yes men or yes women to nod and tell me what a great idea I just had or what a genius I am. In fact, I've made it a point to look for the opposite: strong, independent thinkers who aren't afraid to tell me the truth. This doesn't just keep me at my best; it encourages them to be at their best. And that's good for the whole organization.
The last thing I want is someone keeping that next great idea to themselves because they're afraid it's unpopular. So here are a few reasons you should hire people who know more than you do.
"If you create a culture where people feel they can thrive and think, sometimes your mentors can be the 20-year-old kid who knows social media better than anybody or any service you can ever hire."
– Daymond John, "the People's Shark," Founder and CEO of FUBU
The cutting edge is closer to the ground floor
I'll be honest. When the coronavirus pandemic hit, I wasn't sure how to respond as a business. I knew we'd find a way, but it wasn't something I felt I had all the answers for. Lucky for me, my team is full of talented young people who know social media and tech far better than I do. I asked them, and they had all these great ideas ready to go.
I couldn't have been prouder. Suddenly the younger members of the team stepped up with ideas I wouldn't have thought of. They were full of insight into how we could use videoconferencing and other tools to keep things going remotely. Now, all these months later, my whole team of 40 people is working together, efficiently and virtually.
Diversity is your strength
To see the full picture, it's important to have multiple viewpoints. Some of my most trusted, reliable team members have been strong women. Keeping them around my inner circle has helped me to look inward and challenge some of my assumptions as a male. For example, when I had my first taste of success, it was these strong women in my life who reminded me I had to pay it forward. It wasn't all about celebrating my success. That's what inspired me to do more public speaking and start doing more for the community. I've grown as a person and a businessperson because of it.
Business is about reaching people, whether it's with a product or a service. How are you going to reach the people when your team looks like only a certain percentage of the population? The more diversity you have on your team, the more intelligence you're able to draw from when solving problems. IQ isn't just about book smarts. Some of these job candidates may have started out in unexpected places. That's why you have to view someone's life experience, their perspective and even their challenges and hurdles as part of their intelligence.
Relationships are capital, especially employee relationships
We all know the world is small. The business world is even smaller. Social media, smartphones, videoconferencing — these things are bringing us together in ways we're only beginning to understand. Which is why, in business, you can't afford to treat people like you won't run into them ever again.
People can be short-sighted in this regard. Many see the people they hire as disposable. They may walk all over folks because there's a line waiting to replace them. Operate that way, and before you know it there's another line going out the door, and they all remember being treated like yesterday's garbage.
I say it all the time: Money isn't the only form of capital. Your relationships are capital, too. The smarter move is to nurture those relationships and see what blossoms. Hire people who have fresh ideas. Treat them with respect and they'll work a lot harder for you. They'll also treat your customers with more respect, because your employees look to you to see how to treat others. You never know when the tables will turn and that former employee will be the one in a position to help you.
You can't be everywhere at once
You can only see so much of your business at one time. Your team is down in the weeds every day, looking at the tiny details. That's the kind of insight you need to tap into. Good luck if you've hired a team whose only skill is following instructions.
I like to ask my team, "What are the things I've been too busy to see?" While I've been on planes, trains and automobiles, they've been trying to raise their hands. I asked my team recently, and they had all these great ideas to help the business — some small, some with big impact, all brilliant. I said, "Why didn't you tell me this before?" They told me they tried and I was too busy to listen.
Leadership isn't about knowing every answer. It's about leaning on the right people to get the best information and making the call that helps lift all boats. If you've never tried it, give it a shot. Hire someone even smarter than you. When you look at hiring as a learning opportunity for you, you're going to get that much more out of every new addition.
The testimonials on this page or provided via linked videos are the sole opinions, findings or experiences of our customer and not those of JPMorgan Chase Bank, N.A. or any of its affiliates. These opinions, findings or experiences may not be representative of what all customers may achieve. JPMorgan Chase Bank, N.A. or any of its affiliates are not liable for decisions made or actions taken in reliance on any of the testimonial information provided.
You should carefully consider your needs and objectives before making any decisions, and consult the appropriate professional(s).
Participants compensated.
For informational/educational purposes only: The views expressed in this article may differ from those of other employees and departments of JPMorgan Chase & Co. Views and strategies described may not be appropriate for everyone and are not intended as specific advice/recommendation for any individual. Information has been obtained from sources believed to be reliable, but JPMorgan Chase & Co. or its affiliates and/or subsidiaries do not warrant its completeness or accuracy. You should carefully consider your needs and objectives before making any decisions and consult the appropriate professional(s). Outlooks and past performance are not guarantees of future results.
JPMorgan Chase Bank, N.A. Member FDIC. Equal Opportunity Lender, ©2023 JPMorgan Chase & Co.