Bicycle maker Worksman Cycles finds purpose at home in the U.S.
When competing manufacturers moved their operations overseas, Worksman Cycles found that it paid to stay in America.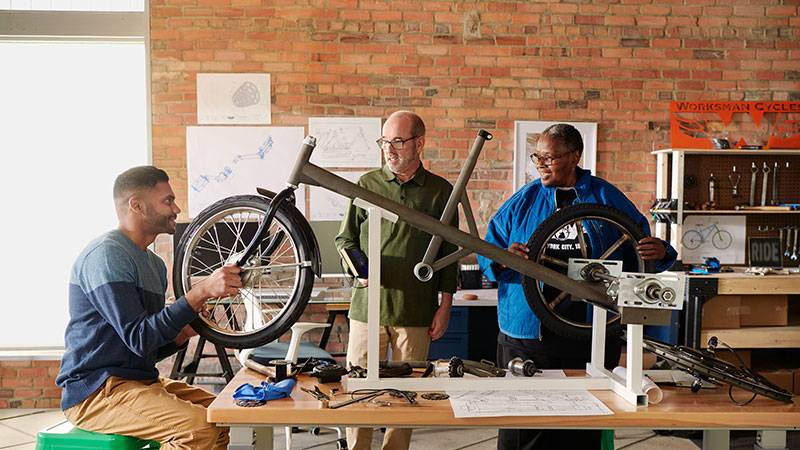 When you've been in business for over 100 years, you know you're doing something right. But for New York City-based bicycle manufacturer Worksman Cycles, success has never meant resting on its laurels. Founded in 1898, the company has remained relevant by trying new ideas and experimenting with new products. The company's industrial tricycles help workers move heavy supplies and equipment on factory floors. Its bicycles are fit for a Sunday ride in the park, albeit tougher and more durable than the competition. And its accessibility-minded custom cycles bring hours of fun to people with disabilities.
Rather than trying to be everything to everyone, Worksman seeks out and supports niche markets, operating a profitable business in the process. At the same time, there are some values the company will never compromise — like making its products here in the USA. That combination of agility and strength has carried this family business through good times and bad, while creating a culture of commitment to quality.
A 100-year legacy of innovation
At the end of the 19th century, Morris Worksman started tinkering with a new idea he'd had while watching vendors pushing wares up and down the street outside his dry goods store in Lower Manhattan. "Let's remember, cars weren't a thing back then. So they were moving their goods around by pushing these large wheeled, fabricated units," explains Wayne Sosin, Worksman's current president, who has been with the company for over 40 years.

"We're going to start paying more and more by credit card so we can bank more of the unlimited 1.5% cash back, and then we're going to start to use it to try to grow the business."
-Wayne Sosin, President, Worksman Cycles
According to Sosin, Worksman saw a better way for these laborers to move their merchandise. Using parts from the bicycles he sold in his shop, Worksman created three-wheeled carts with platforms that could be maneuvered on the busy city streets. "That was the beginning of Worksman Cycles," Sosin says.
Soon, Worksman gained a reputation for durable bicycles and carts that could stand up to the strain of city streets. But the company's footprint remained fairly small until the 1920s, when Worksman heard from a then-upstart company. "The Good Humor ice cream tricycle was what put us on the map," says Sosin. For one thing, it gave Worksman an opportunity to scale the business for national distribution. "Worksman was a small company, working in a small space in Manhattan," Sosin says. "Then we got a call from a Wall Street investment firm that was backing this ice cream company, Good Humor."
Sosin enjoys telling the story of Morris Worksman, the shopkeeper, walking into a boardroom full of high-profile investors and businesspeople. "They tell Worksman, 'We want to put a fleet of tricycles and pushcarts in cities all over the country. Can you do that?'" Sosin says. "And Mr. Worksman nodded yes. He then walked out of there, turned to his team and asked, 'How are we going to do this?'"
Worksman's gamble paid off. Business picked up. Fast. "That was the first time we were really shipping tricycles outside of the New York metropolitan area," says Sosin. Worksman started shipping products to the Midwest and as far as California. Although Good Humor got out of the street vending business years ago, Sosin and team still hear fond recollections from people who recall the more than 70 years that the ice cream tricycles were on the streets. "Anybody who's my age has very nostalgic feelings when they see the Good Humor ice cream tricycle," he says. "It's what we grew up with."
Worksman refuses to switch gears
After World War II, Worksman's industrial business started to pick up steam. The company supplied many major automakers and airlines with heavy-duty tricycles to move supplies and cargo across large runways and shop floors. Along the way, Worksman became synonymous with American manufacturing. Employees describe their products as "Worksman Tough," highlighting the extra lengths to which the company goes to make sure its products are durable and made with only the strongest materials.
In the 1980s, those American manufacturing bona fides were tested. As part of a larger economic trend of offshoring, many of the manufacturer's larger competitors had begun moving their production operations overseas. "Every major bicycle company in the U.S. left," Sosin says, "but our leadership believes strongly in supporting American manufacturing. And we believe that our customers — especially our industrial ones — also appreciate the fact that we still operate in the U.S." Worksman's customers include Ford Motors, Boeing, the major airlines and tire manufacturers. "If we don't support them and they don't support us, then we both have a problem," he says.

Staying in America was about sticking to the company's values. But there are practical benefits as well. Building domestically allows Worksman to continue to serve niche markets with customization options, which wouldn't be possible shipping wholesale from overseas. For instance, Worksman builds customized adult tricycles and tandem bikes for use by people with special needs. In one instance, the company built side-by-side tandem bikes for a New Jersey school that serves visually and hearing-impaired students. One of the students, a 17-year-old, was able to take his first bike ride alongside a caregiver. "They'd never seen him smile or emote, ever, in a positive way," Sosin says. "He got on the tricycle, and they said he smiled. They were so excited and thrilled."

Find partners who ride in tandem with your values
The relationship between Worksman and Chase for Business goes back at least 25 years, and Sosin can't imagine working with another banking partner. The company relies on Chase to meet all its banking needs, including a commercial line of credit, checking accounts, wire transfers, import and export finance, business credit card and wealth management services.
But it's the relationship that makes the most impact.

"As a small business, we don't have a lot of consultants, so we have to use the resources available to us, whether it be our accountants or our bankers," says Sosin. "Over the years, I've had some really great Chase relationship managers. We might tell them about an opportunity we have or a challenge we're facing."
Sosin and his team rely on their bankers to provide strategic advice to make the most of their opportunities and refer them to services they might not know about. Recently, they turned to their Chase Ink Business Unlimited® credit card to give them a strategic edge. Because the card offers the flexibility that a modern business needs and an unlimited 1.5% cash back on every purchase, Worksman uses it for as many business purchases as possible and has expanded its card program to include smaller purchases by employees. "We're trying to get more and more of our vendors to accept the credit card," says Sosin. "That unlimited 1.5% cash back can make a real difference." Sosin estimates that Worksman will soon have enough cash back banked to finance a major machinery or equipment purchase. "That's a big deal," he adds.
Sosin urges fellow business owners, especially those starting out, to choose the right banking partner. Finding a bank that offers all the products you need is important, but finding a strategic ally is indispensable. If you're looking for a bank that's in it for the long ride, open an account or start a conversation with Chase for Business today.
The testimonials on this page or provided via linked videos are the sole opinions, findings or experiences of our customer and not those of JPMorgan Chase Bank, N.A. or any of its affiliates. Rewards shown were accrued over the course of several months and represent above average earn for customers with this credit card. The actual amount of rewards you accrue will be dependent on your credit limit and purchase activity. JPMorgan Chase Bank, N.A. or any of its affiliates are not liable for decisions made or actions taken in reliance on any of the testimonial information provided.

For informational/educational purposes only: The views expressed in this article may differ from those of other employees and departments of JPMorgan Chase & Co. Views and strategies described may not be appropriate for everyone and are not intended as specific advice/recommendation for any individual. Information has been obtained from sources believed to be reliable, but JPMorgan Chase & Co. or its affiliates and/or subsidiaries do not warrant its completeness or accuracy. You should carefully consider your needs and objectives before making any decisions and consult the appropriate professional(s). Outlooks and past performance are not guarantees of future results.
JPMorgan Chase Bank, N.A. Member FDIC. Equal Opportunity Lender, ©2022 JPMorgan Chase & Co.

Accounts subject to credit approval. Restrictions and limitations apply. Chase Ink Business Unlimited credit cards are issued by JPMorgan Chase Bank, N.A. Member FDIC. Offer subject to change.