Daymond John's five mantras for success
How do you build a successful business? Daymond John shares five favorite pieces of advice for business owners.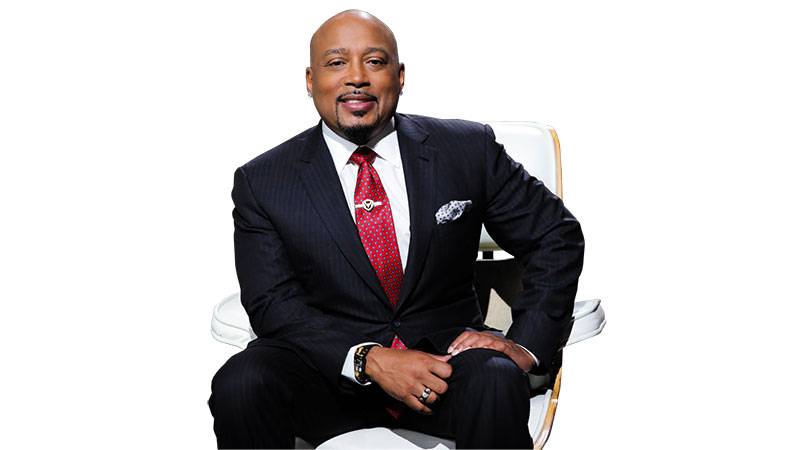 "If you're like me and didn't have the resources to go to college, then you better be on the internet instead. You better be at that library. You better be wherever you can to acquire the knowledge."
– Daymond John, "the People's Shark," Founder and CEO of FUBU
I'm always moving, observing, staying flexible and hunting for opportunity. Helping other entrepreneurs capture this mentality is something I look forward to as I rise and grind each day.
Through my investments, seminars, books and daily conversations with entrepreneurs, I've compiled simple mantras that have helped me grow as an entrepreneur — and as a person.
Here are five important pieces of advice that I feel all business owners and aspiring entrepreneurs would do well to consider.
Never stop learning
I don't mean learning at an Ivy League school or in a way that costs you a bunch of money, although that's necessary for certain industries. You don't always need a college degree or an MBA to build a successful business, and you can't put a price tag on personal experience.
I didn't go to college when I was starting out because I couldn't afford it. Instead, I got a job and set a goal to learn something new each day. I was working at Red Lobster, constantly asking questions, listening to customers and learning about the business. I paid attention to the fundamentals of customer service, inventory control and employee management.
During the pandemic, a lot of people are justifiably unsure about what's next for their career or passion project or what they should learn to stay competitive. My advice is to take time to reinvest in yourself and learn new ways of doing business online. Technology is constantly changing, and it's important to stay on top of what's next. Whether it's a side hustle while working for someone else or you've taken the plunge into being a full-time entrepreneur, focus on learning something new each day and channeling your energy into something useful. Take an online class, read a book or listen to a podcast on business growth.
Be where your customers are
You've got to be obsessed with your customers. This is especially important during times of economic uncertainty, because your audience doesn't just want to buy your clothes or your fragrance or your beverage. They want to belong to a culture that understands their struggles and aspirations. It's your job to study and learn about who your customers really are.
In the early stages of FUBU, I targeted a few specific customer segments in the Hollis neighborhood of Queens. Specifically, I'd realized that the biggest guys never had fashionable clothes to wear. They had to go to Rochester Big & Tall and get a white or black shirt. Or they had to get something custom made. I bought 50 shirts in all sizes, including 5XL and 6XL, and put the FUBU logo on them. Then I went to where my future customers hung out.
Instead of trying to win over celebrities who were bombarded with free stuff every day, I gave away my product to a unique group. I gave shirts to the big guys in front of the red rope at the club or the big guys who were bodyguards for celebrities. They would wear the FUBU stuff 10 times a month because they finally felt catered to and fashionable. Eventually, the rappers saw it on these guys and would hit me up and say, "Yo! Where's mine?"
By being where my customers were I started building influence with the different groups and created a lifestyle brand that continues to make my urban audience feel included and understood.
Redefine OPM
Redefine how you build your success using OPM, or what's commonly referred to as "other people's money."
Regardless of what you may see on my reality show "Shark Tank," savvy entrepreneurs don't always look for investment money to get their project off the ground. There are variables that can be just as valuable — sometimes even more valuable — than someone else's money.
Other people's mind power
Other people's manufacturing
Other people's marketing
Other people's mistakes
At FUBU, I leveraged international partners to help with manufacturing and distribution, as well as cash flow. The key is to build and leverage trusting relationships with people you admire and want to learn something from. Their momentum and motivation, along with their money, will inform your personal grind. Fill in the "M" to fit what you're trying to achieve at any given time. Don't sell yourself short for someone else's financial help.
Build on your failures
I wouldn't be where I am today without the experience of my hard-won failures.
Back in the day, I started a transportation company that consisted of carpools in my neighborhood. My team and I would drive vans up and down the bus stops and pick people up for $1 apiece. Unfortunately, I didn't have the necessary taxi license from the Department of Transportation, and I was issued a $3,000 ticket. It made me sick for weeks, and another ticket would've put me out of business and left me flat broke. Despite the market that I saw for my service and the allure of a new challenge, I realized that the business model was not for me.
Some of the best advice I've ever been given and that I give to other entrepreneurs is that, when you encounter a series of unexpected roadblocks, don't beat yourself up over having to pump the brakes. Give yourself permission to step back. Chill. Reevaluate. Brush your shoulders off, and readdress the problems with curiosity and experimentation.
When I feel like I'm failing, I make a checklist of all the obstacles that blocked me and reexamine my motivation for doing something in the first place. This is a key part of my commitment to never stop learning. What can I learn from failure, and how can I avoid the same result in the future?
Network, network, network
To build a network of mentors, colleagues and customers around your business, you need to make sure you're constantly communicating with your people in an honest and authentic way. Take inventory of your network and what's in front of you. Ask yourself: What can I control? Who can I call? Who can I collaborate with?
Begin networking by building relationships from a place of service. With every interaction, you should aim to add three times the value you extract before asking for anything in return. Read that again:three times the value. This means working through a dinner menu three times before asking any of your chefs to prepare it for the first time or sharing three of a friend's tweets before asking them to reciprocate.
This practice builds knowledge for you personally and accelerates the trust you have with colleagues in your network. It helps you align with helpful people by having a clearer idea of what you're asking from everyone else. Refuse to sacrifice your authenticity along the way. Be honest about your vision, and deliver value to your network before asking something in return.
Networking includes responding to all reviews, both positive and negative, and showing earnest appreciation. These thank-you moments not only strengthen relationships with existing customers but also generate leads for new connections when people share their experience of working with you.
In conclusion
As a business owner, you can succeed where big businesses often fail by creating one-on-one connections with each of your customers and showing your gratitude in an authentic way. When you create oversize value for your audience and the network of people around your brand, you'll find new opportunities to learn each day and to improve upon other people's mistakes — as well as your own.
The testimonials on this page or provided via linked videos are the sole opinions, findings or experiences of our customer and not those of JPMorgan Chase Bank, N.A. or any of its affiliates. These opinions, findings or experiences may not be representative of what all customers may achieve. JPMorgan Chase Bank, N.A. or any of its affiliates are not liable for decisions made or actions taken in reliance on any of the testimonial information provided.
You should carefully consider your needs and objectives before making any decisions, and consult the appropriate professional(s).
Participants compensated.
For informational/educational purposes only: The views expressed in this article may differ from those of other employees and departments of JPMorgan Chase & Co. Views and strategies described may not be appropriate for everyone and are not intended as specific advice/recommendation for any individual. Information has been obtained from sources believed to be reliable, but JPMorgan Chase & Co. or its affiliates and/or subsidiaries do not warrant its completeness or accuracy. You should carefully consider your needs and objectives before making any decisions and consult the appropriate professional(s). Outlooks and past performance are not guarantees of future results.
JPMorgan Chase Bank, N.A. Member FDIC. Equal Opportunity Lender, ©2023 JPMorgan Chase & Co.