Chase Auto Preferred sends auto leads for deals you can close
Our goal is simple: to help you sell cars. When you become a Chase Auto Preferred dealer you'll receive auto leads with real buying power, directly in your CRM.
Reach ready-to-buy Chase customers with your inventory
Approved buyers make up more than 60% of the leads we send to our Chase Auto Preferred dealers. Here's how it works: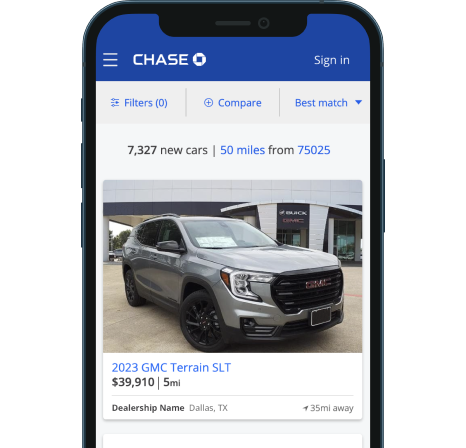 Targeted marketing
We target more than 63 million active digital Chase customers and we'll drive prospective buyers to your inventory on chase.com/cars.
Local car buyers
Once on chase.com/cars, our online customers can shop vehicle inventory based on their zip code and apply for financing.
High-quality leads
When a customer selects one of your vehicles, we'll send that lead to your CRM and tell you if they're approved for Chase financing. Our leads close at a rate of 20% or better, according to surveyed dealers.
Dealers are happy with Chase Auto Preferred
Experience

the value of Chase Auto Preferred.
Participating dealers gave Chase Auto Preferred a 4.6 out 5 satisfaction score in a recent survey. Enjoy the ease of having strong leads sent straight to your CRM.
More than 90%

of Chase Auto Preferred dealers stay enrolled in the program.
Our Chase Auto Preferred team will work with you to identify your priorities, and to understand and address outside factors that may impact your strategy.
Frequently Asked Questions
Chase Auto Preferred is a service offered by Chase Auto Dealer Services that connects auto dealers with our Chase customers so that you can receive quality auto leads directly in your CRM.
We support all major CRMs and Inventory Providers. Including but not limited to: Automate, Dealer Socket, Cobalt, Dealer.com, Dealer Inspire, Ebizautos, HomeNet, Sincro, VinSolutions, and vAuto.
We hope you'll give Chase an opportunity to finance these leads, but it is not a requirement.
As a Chase Auto Preferred dealer, you can find car buyers by placing your inventory on chase.com. We'll generate auto leads for you that have real buying power by driving prospective car buyers to your inventory through advertising targeting Chase customers in your area. Chase Auto Preferred is a service offered by Chase Auto Dealer Services.
The first 3 leads are free, then pricing is tier based on the number of leads and relationship with Chase.
Sign-up or learn more by emailing us at cap.sales.support@chase.com.
Please include your dealer name and location, and an email or phone number so we can get back to you.