Chase Text Banking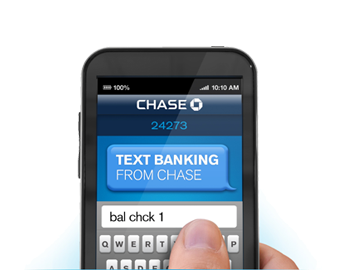 Send a text. Get a snapshot of your account.
Chase makes it easy for you to check how much money is in your business account. Just send Chase a text to 24273 (that's "Chase" on your keypad) and we'll send you a text with your balance and more. Footnote (Opens Overlay)
Check your business savings or checking account balance.
Review your transaction history.
Check the payment date and amount of your next credit card bill.
Begin sidebar
bal – Get balances for all of your accounts

bal + nickname – Get balances for any one of your nicknamed accounts

hist + nickname – See transaction history for any one of your nicknamed accounts
due + nickname – Check your nicknamed credit card account payment due date
nick – See a list of account nicknames

help – Get additional service information

command – See a list of commands

stop – Unsubscribe from Chase Mobile via text
End sidebar
About Text Alerts
Account Alerts help you control your finances, keep your business account safe and help avoid overdrafts. We'll notify you when transactions or ATM withdrawals exceed your limits or when your online User ID, Password or mailing-address changes. Footnote (Opens Overlay)
And with Chase Instant Action Alerts℠ , we'll send a text if your business account dips below your preset limit. Then simply reply by text to schedule a transfer. It's fast, easy, and free. Footnote (Opens Overlay)